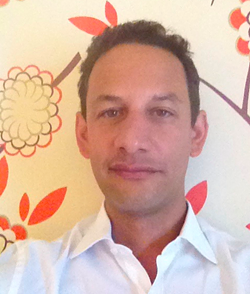 Updated 4:48 p.m.:
MOCAD's Elysia Borowy-Reeder says, "Jens is on unpaid leave of absence until this is settled to our satisfaction. We learned of this only yesterday and the board needed time to process and discuss. It's effective as of today."
Originally posted 12:29 p.m.:
MOCAD employee Jens Hoffmann has been suspended from a number projects amid complaints of sexual harassment — but the Detroit gallery has not yet announced whether it too will cut ties with the curator.
On Monday,
Artnet reported
that Hoffmann was suspended from all ongoing projects at New York's Jewish Museum following allegations of sexual harassment that were brought to the museum's attention on Nov. 30. That followed news on Nov. 29 that Hoffmann would leave his post effective immediately as co-artistic director at
Cleveland
's FRONT Triennial.
When asked for comment Tuesday, MOCAD director Elysia Borowy-Reeder sent the following statement, which appeared in part in Artnet:
My heart goes out to all the parties involved. MOCAD is troubled to hear of the allegations of sexual harassment made against Jens Hoffmann our Curator at Large. MOCAD is committed to providing a safe and unthreatening work environment for all its employees, artists and visitors. We have not been aware of any similar accusations while employed at the Museum of Contemporary Art Detroit. As the exact nature of the claims have not been made public or disclosed to us - the MOCAD Board needs time to process and discuss, and they are.
Hoffmann's attorney Lance Gotko told Artnet that his client "flatly denies having sexually harassed anyone ever at the museum" and that he "has no basis for commenting because he's never been confronted with the allegations."
The story will be updated as it develops.