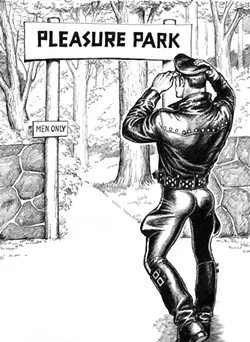 Even if you don't know the artist Tom of Finland by name, you almost certainly know of his legacy. Born Touko Laaksonen, the Finnish World War II vet and artist is known for his smoldering, homoerotic drawings of brawny, hyper-masculine men. Once deemed pornographic by the mainstream, the images had a deep influence on gay culture in the second half of the 20th century, leaving Laaksonen's mark on everything from the underground BDSM and leather scenes to even a mainstream disco act like the Village People.
The artist is the focus of Tom House: The Life and Work of Tom of Finland, a new exhibition opening Thursday at Museum of Contemporary Art Detroit. The show will feature the prolific artist's sexually charged drawings as well as work from contemporaries and like-minded artists, including Richard Hawkins, Robert Mapplethorpe, Jim Shaw, and John Waters.
The show was co-curated by Graeme Flegenheimer, the owner of Southwest Detroit music venue El Club and an admirer of Tom of Finland's work. Flegenheimer cites Laaksonen's art as helping him explore and come to terms with his own sexuality, having first encountered his work at a book fair when he lived in Los Angeles in his early 20s.
"I remember being like, 'Whoa, this is really cool — super hot guys in leather, and dicks everywhere,'" Flegenheimer says. "I had not fully accepted my sexuality at that point. And then seeing that was very positive for me, you know. I was like, 'What is this?' It was more like, look at these gay men who are not fitting in this [stereotype] that's publicly shown on television or in movies."
That encounter wound up being the origin of how the Tom of Finland show would eventually come to Detroit. Flegenheimer soon became acquianted with S.R. Sharp, the vice president of the Tom of Finland Foundation. The organization runs a museum out of the artist's former home in L.A.'s Echo Park neighborhood, which includes thousands of the prolific artist's works — including some 3,500 finished drawings and 1,500 preparatory drawings.
"I went to the house in Echo Park when I was still living in Los Angeles, and just kept showing up," Flegenheimer says. "I just kept bothering them. I was like, 'I really want to do something.' So this show is realistically almost five years in the making."
Too sexy
After the war, Laaksonen got a job working as an art director for the advertising agency McCann-Erickson in Finland. Already, Laaksonen was earning a reputation for his erotic images.
"He started out doing illustration, but somehow they thought that the father that he was drawing for a refrigerator ad was too sexy," Sharp explains. "They didn't fire him — they just kicked him up to management."
Eventually, Laaksonen was able to split his time between Finland and Los Angeles. But it was in L.A. where Laaksonen felt he could truly be himself. "When Tom was here, he could be Tom all the time," Sharp says. "But in Finland, he sort of made a commitment to his family that he wouldn't use his real name."
Laaksonen wouldn't have to live a double life forever. By the late '80s, he was diagnosed with emphysema. The Tom of Finland Foundation was set up to become the steward of his work, and it set to solidify Laaksonen's place in art history, commissioning a biography and a documentary film from a Finnish production company before the artist died in 1991.
"Before Tom died, we had a deadline," Sharp says. "He got to see the documentary on VHS from his bed."
Since then, the foundation has helped cement Laaksonen's role as an important Finnish artist, with the country's post office even issuing a commemorative Tom of Finland stamp in 2014. "I think through all this effort, we've given Finland a new national hero," Sharp says. "He's certainly a part of the country's identity. They now present themselves as a gay-friendly destination."
Sharp says he could see the attitudes about Laaksonen change throughout his time working with the foundation.
"When we go to Finland, we sort of gauge it by our cab drivers," he says. "So we'd say, 'Hi, we're from the Tom of Finland Foundation. And they used to say, 'Who?' And then five years later they'd say, 'No, he's not from Finland.' And then we go now and they go, 'Wow, that is so cool!'"
A perfect fit
Detroit's MOCAD turns out to be a rather appropriate venue for a Tom of Finland show. The museum is the permanent location of the Mike Kelley's Mobile Homestead, and Detroit artist Kelley was a big supporter of Tom of Finland. In 1988, Kelley invited Laaksonen to speak for his class when he was teaching at the California Institute of the Arts.
"I don't know that Mike Kelly was necessarily influenced by Tom of Finland," says MOCAD executive director Elysia Borowy-Reeder. "But he certainly had a high regard for what he was doing as an artist."
Hence, the exhibition's central theme: "Tom's house at Mike's house." By replicating Laaksonen's L.A. home, the exhibition shows how the artist blurred the lines between his professional and personal selves. "I think art is life, life is art. Tom of Finland embodies that," Borowy-Reeder says. "His house is a work of art, the way that he's curated his collection. There are no professional and personal boundaries. His personal life is reflected in the art. I think to be an incredible artist that stands the test of time, that's what it takes."
Beyond that, Borowy-Reeder sees power in the simplicity of Laaksonen's work. Much of his work is done in pencil on sketch paper, but Laaksonen demonstrates a technical mastery of the medium and depicting the male form.
"I think it's kind of like the power of the human voice against the brick wall," she says. "I like that it's stripped down — it stands in contrast to the high production of artwork right now."
The show features explicit subject matter — Laaksonen frequently depicted his subjects engaged in all manner of sex acts. For that reason, MOCAD has attached a sensitive material warning to the exhibition, and youth are not permitted to view the work unless accompanied by an adult who has had a chance to preview it.
But Borowy-Reeder says despite the adult subject matter, it was never an option for the museum to shy away from Tom of Finland's work. "I always think museums and museum education should be in the service of young people," she says. "Museums are not the ones to decide what is appropriate, because then we're censoring."
"It's really cool that MOCAD said yes," Flegenheimer says. "I wish it was a more dramatic story for you. But there was not a dramatic, 'We have to think about it.'"
Even at his most pornographic, there is something equally humorous and absurd about Laaksonen's drawings of comically beefy, uniformed men engaged in sex acts — but also a sensitivity and reverence. In that way — simply by reflecting life — Borowy-Reeder sees Tom of Finland as a political artist.
"He saw how LGBT populations didn't have the same rights," Borowy-Reeder says. "He was an activist too; not in an overt political way, but in the way that he saw activism. I think he did expand the whole conversation."
Flegenheimer agrees. "The people Tom was drawing were persecuted," he says. "Those are the people who fought for the comfortability of my life today as a gay man. ... He was protecting and preserving and promoting this culture, and that was a really important thing for me to get across with the show."
And Laaksonen's legacy is not only confined to his influence in gay culture. "Tom of Finland not only gave homosexuals a strong, empowered identity. If you look at the other side, straights were looking at us with a different eye," Sharp says. "We suddenly were cops, and sailors, and policeman, and all the men that Tom depicted in his work. We started becoming those people. We weren't just nurses and interior decorators. He gave us permission in that way to be who we wanted to be."
Tom House: The Life and Work of Tom of Finland opens from 6-9 p.m. on Thursday, April 19 at MOCAD, 4454 Woodward Ave., Detroit; 313-832-6622; mocadetroit.org. The museum will screen the documentary Tom of Finland at 4 p.m. on Sunday, April 22.