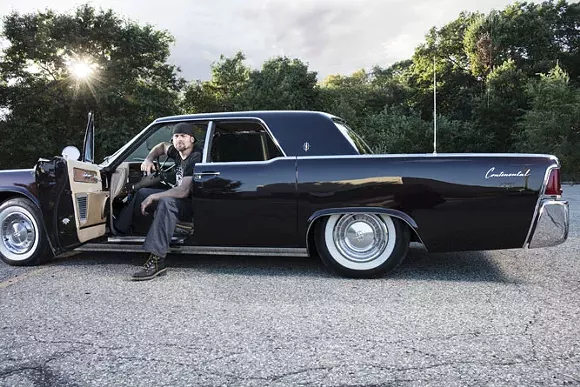 You may have seen Adam Genei and his Detroit-based car customization shop Mobsteel on NBCSN's 2015 reality TV show of the same name. This year, the show — once the network's most-watched original series — has now made the move to the History channel.
Now titled
Detroit Steel
, it'll premiere on History at 10 p.m. on Saturday, Jan. 28 . Like
Mobsteel
,
Detroit Steel
is shot in an unscripted, project-based format, which sees Genei and his team turn discarded cars into stunning, drivable works of art.
Here's what History has to say:
The Motor City, once the Mecca of American auto manufacturing, is making a comeback and classic car builder Adam Genei's leading the charge. Born and bred in Detroit, Adam and his team at Mobsteel turn worn out, rundown rides into full throttle, high-end masterpieces. From '50s and '60s classic restorations to monster-sized, vintage trucks and decked out, '70s lowriding dream machines, each episode of Detroit Steel is a bigger challenge than the last. Luckily, Adam knows all the best places to find long forgotten pieces and parts, giving each and every car build a unique piece of Detroit car history. Restoring these forgotten treasures–and the city they love–will take hard work, long hours and few sick burnouts, but Mobsteel won't stop until the job's done.
Check out the trailer below: