One Florida woman is having the best week ever after being reunited with her dog Zeus, who went missing nearly two years ago.
Zeus, a pug-nosed terrier, was brought into the Dearborn Animal Shelter and the staff was able to track down his owner, Debi Petranck, after scanning Zeus' microchip.
Petranck told
CBS Detroit
that she wasn't sure if her long-lost pet would recognize her after all that time, but as you can see from the video, that wasn't the case.
So how'd Zeus make it all the way to Dearborn from Florida?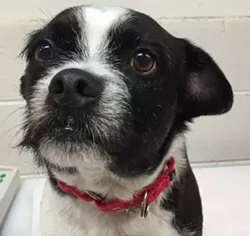 Well, according to CBS, some guy found the dog after it went missing from Petranck, who placed ads in local papers trying to track the pooch down to no avail. The guy moved to Dearborn and yup, you guessed it, that little rascal Zeus escaped again.
All in all, we're happy this story has a happy ending.