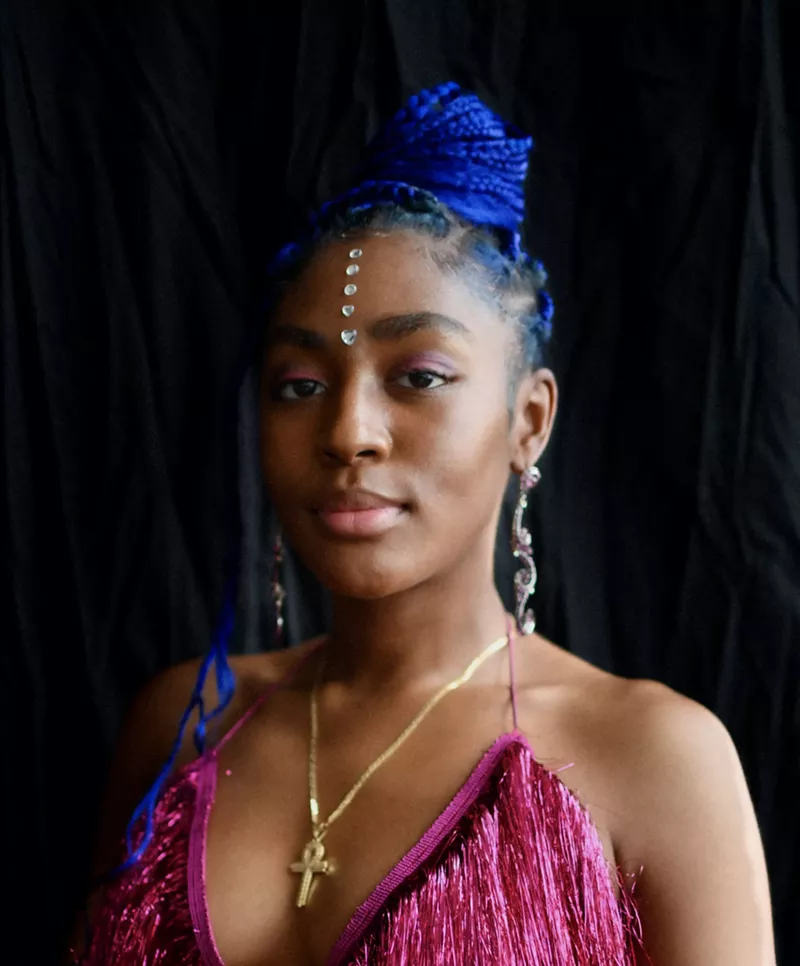 This feature highlights a different local artist each week. Got someone in mind you think deserves the spotlight? Hit us up at [email protected].
Artist of the week: Mieyoshi Ragernoir
When Mieyoshi Ragernoir moved to Michigan in 2020 for graduate school, she had no idea a healing journey awaited her.
Cranbrook Academy of Art, where she graduated in 2022 with an MFA in painting, was still under COVID-19 protocols at the time so she couldn't interact with anyone and just spent her time in the studio.
"That year was such a tragic time for the world but it allowed me to be really still and just allow myself to have a pause from all the things that were happening in my life," she says. "The world was falling apart but 2020 was the first time I didn't experience any external trauma. 2019 was a really rough time for me and I went to a lot of therapy."
Bursts of vibrant colors, jubilant smiles, and rays of sunshine came out of the Harlem-born painter's despair and onto her canvas. Ragernoir's paintings often feature sun-kissed Black femmes, Black women in moments of radiance, and scenes that emanate joy.
At 27 years old and fresh out of graduate school, the spirited artist already has her first solo show Portal 27: I'm Coming Out at Norwest Gallery of Art this month.
Several of the young artist's pieces are painted on wood that she carves with a Japanese handsaw or even box cutters. It's an arduous process that she enjoys.
"That process has become therapeutic for me. I don't even think I want to learn how to use a laser cutter to cut them out because it's so meditative," she says.
Many of the subjects in Portal 27 are fellow artists Ragernoir met when she came to Michigan. Though she moved here not knowing anyone, she says she found she was quickly embraced and made to feel comfortable expressing the truest version of herself.
"They really allowed me to see myself," she says. "Finding this newfound group of chosen family and chosen sisterhood, I realized how much Black women illuminate my life. To me, they just glow and radiate so powerfully so when I'm painting them, although it's just wood and canvas, it's like the actual person that I love so deeply and dearly is in my studio with me in that moment."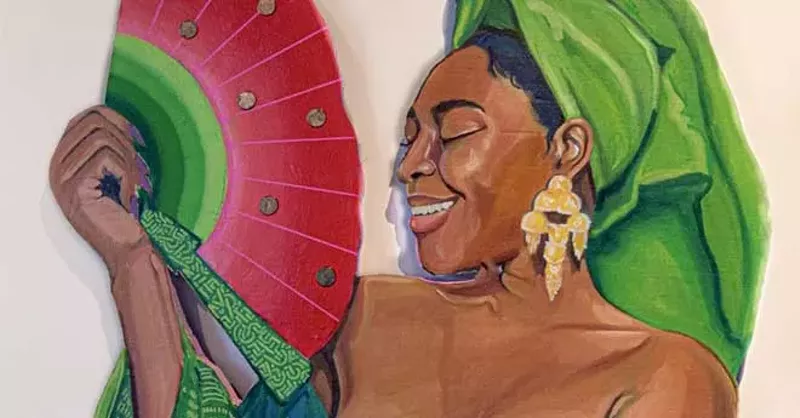 In her "Sunny Days" paintings a group of Black creatives, including Darryl DeAngelo Terrell, are passing a joint as they chill in a park.
"A lot of the people I've painted in this show, when I first met them it was like having the best day ever at the playground with some random kid you met at the park and you feel like you're best friends for that day," she says.
The show also features a few self-portraits of Ragernoir. In "between the devil and the deep blues," Ragernoir poses in a vulnerable moment, as her nipple peeks out from her robe and she dons a pair of stylish sunglasses that match her blue hair.
"I was walking around my apartment in this robe feeling what I call caught between the devil and deep blues but finding this way to still carry on through these acts of self-care and transmute this low energy and turn it into these artworks," she says.
Ragernoir was a featured artist for Womxnhouse Detroit 2022 and the inaugural citywide queer art exhibit Might Real/Queer Detroit last summer. She also showed work in the Daughters of Betty: Black Women Rock group exhibit at Andy Arts Center in 2022.
She'll also have a solo show at Detroit's Brewery Faison from August to October.
Where to see her work: Portal 27: I'm Coming Out is up at Norwest Gallery of Art until April 30; 19556 Grand River Ave., Detroit; norwestgallery.com. The show is. Ragernoir also has work in Reyes Finn's Get Together show on view through May 6; 1500 Trumbull St., Detroit; reyesfinn.com.
For more info, see mieyoshiragernoir.com.
Coming soon: Metro Times Daily newsletter. We'll send you a handful of interesting Detroit stories every morning. Subscribe now to not miss a thing.

Follow us: Google News | NewsBreak | Reddit | Instagram | Facebook | Twitter