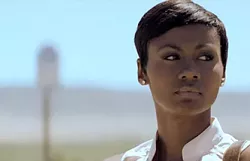 Middle of Nowhere| B-
With its too-slow pace and carefully etched characters, writer-director Ava DuVernay's second feature looks and feels very much like a Sundance movie, but without the obvious social agenda and righteous sense of politics. Nevertheless, this intimate and carefully observant indie will most likely struggle to find its audience, having neither the star-appeal of other well-regarded festival fare (it won the Best Director award at Sundance last year) nor the slick melodramatics of Tyler Perry-style "black" cinema.
While I am loathe to suggest that Middle of Nowhere is aimed solely at African-American filmgoers, I suspect that others will dismiss it as such, perhaps even skipping this review entirely. When you consider how much marketing, Oscar campaigning, and Hollywood turmoil it took to get a movie like Precious even noticed (it went on to earn a respectable $50 million), you can't help but root for the quiet modesty of a film that lives in the here and now, and avoids the pretense of big-message drama.
Newcomer Emayatzy Corinealdi is Ruby, an L.A. nurse who has dropped her plans for medical school in order to support her husband, Derek (Omari Hardwick), as he faces eight years of prison for an unspecified first offense. Charting the everyday challenges of her life, we watch Ruby take four-hour bus rides to the prison on visiting day, work late night shifts at a hospital as a nurse, take care of her sister's young son, and tirelessly work toward Derek's release. Her life is on hold, in service of other people and their needs. Four years go by, and when her husband is recommended for early parole, she is blindsided by unsavory revelations at his hearing. Making matters more complicated, there's Brian, the charming bus driver (David Oyelowo) who has inspired her to start questioning what she wants from her life.
Corinealdi and Oyelowo bring great heart and nuance to a simple story that is, frankly, a bit too simple. While I greatly admire DuVernay's patience and restraint as a filmmaker and the way she relies on somber tones and visuals to convey Ruby's emotional isolation, much of her dialogue feels inauthentic, and, at times, too on-the-nose.
The script intentionally withholds information — particularly Derek's crime and how much Ruby knew — which undermines our ability to empathize with her decisions except in the most superficial way. There's also a fine line between meditative and just plain pokey. For every moody moment of silent introspection there is yet another unenlightening bit of minutiae from Ruby's day-by-day existence. It's as if DuVernay had trouble deciding what footage to cut and what to keep. When you add in the dream sequences where Ruby remembers Derek's affections or how Brian's tenderness is wedged between R&B tunes, dramatic inertia takes over. It's only the charisma and passion of the film's performers that carries us to the end.
Still, it's hard to knock a movie that's trying to break as many molds as Middle of Nowhere does. Contemplative and bravely willing to leave some questions unanswered, DuVernay seriously confronts how our choices impact ourselves and the ones we care about. Ruby defies the stereotypes of black women in cinema as she wrestles with letting go of a relationship she believes defines her. In many ways, the character is a metaphor for the film itself, a sensitive and heartfelt attempt to forge its own narrative path, gently asking us to walk a mile in another person's shoes.