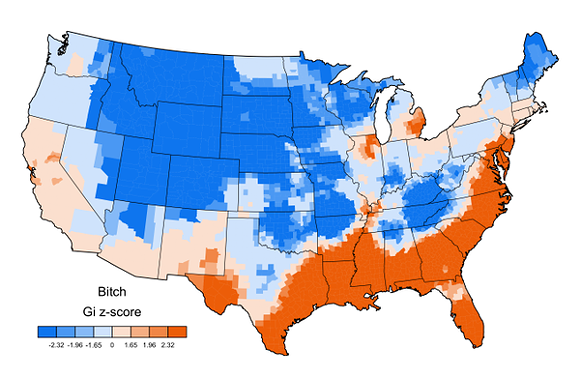 Longtime
Metro Times
readers know we love our swear words. That's why some recent maps by the U.K. linguist
Jack Grieve
are of particular interest to us.
Grieve, a professor in Forensic Linguistics at Aston University in England, tweeted out maps of the U.S. showing which swear words are most popular in each state. To make the maps, Diansheng Guo at University of South Carolina collected almost a billion tweets from Oct. 2013 to Nov. 2014, totalling nearly 9 billion words. They then analyzed the tweets using geotagged data.
Grieve explains:
For any word (e.g. fuck) we measure its relative frequency in each county by diving the total number of occurrences of that word in that county by the total number of words in that county.

We take that raw map and smooth it using a hot spot analysis (a Getis-Ord Gi local spatial autocorrelation analysis).

We map the Getis-Ord z-scores to identify clusters. Specifically, a high z-score means that that county is in the midst of a region where that word is relatively common, a negative z-score means that that county is in the midst of counties where that word is less common.
The conclusions deduced from Grieve et. al? Metro Detroiters say "Cunt," "Fuck," "Bitch," "Faggot," and "Asshole" a lot.
Check out the maps below.
The fuck map...we've never seen a word map quite like this.... pic.twitter.com/qIsWChETGq

— Jack Grieve (@JWGrieve) July 16, 2015
The Shit Map...9 billion words of geocoded Tweets 2013-2014 pic.twitter.com/FPuxMj8ew9

— Jack Grieve (@JWGrieve) July 16, 2015
Alright, let's keep going: the Bitch Map. This and Shit have a similar and common pattern (see other maps below). pic.twitter.com/4KiC3iaFkp

— Jack Grieve (@JWGrieve) July 16, 2015
The Faggot map... pic.twitter.com/varHMjKYdW

— Jack Grieve (@JWGrieve) July 16, 2015
So pretty much everyone's swearing. We just don't all prefer the same words. The Asshole map. pic.twitter.com/kn65kIHPaa

— Jack Grieve (@JWGrieve) July 16, 2015
The Motherfucker map (as one word) pic.twitter.com/rsCYvrIPex

— Jack Grieve (@JWGrieve) July 16, 2015
I hesitate to post this. We're doing some work on slang for a news outlet & they say any word is cool except this. pic.twitter.com/TmCh1ptoCf

— Jack Grieve (@JWGrieve) July 16, 2015
The damn map...hydro-electric polysemy doesn't seem to be skewing things too much at least http://t.co/iIRD4Cl5Ey pic.twitter.com/l15141jb9V

— Jack Grieve (@JWGrieve) July 16, 2015
The Darn map. I know, I know, I should be mapping damn/darn alternation for the variationists out there but fuck it pic.twitter.com/XSRB3vBYS4

— Jack Grieve (@JWGrieve) July 16, 2015
The elusive Southern Midland Dialect region appears: The Gosh Map pic.twitter.com/WCSwnJqTaw

— Jack Grieve (@JWGrieve) July 16, 2015
Let's get Round 2 started: The Crap Map...another Southern Midland pattern pic.twitter.com/wyPF57qGHK

— Jack Grieve (@JWGrieve) July 17, 2015
The Douche Map... pic.twitter.com/Vqmk9URrBw

— Jack Grieve (@JWGrieve) July 17, 2015
The Pussy Map...note: polysemy has not be controlled pic.twitter.com/GrFZ5zzWsp

— Jack Grieve (@JWGrieve) July 17, 2015
The Hell Map...notably lining up with Shit etc rather than Gosh... pic.twitter.com/KZaicoN4sc

— Jack Grieve (@JWGrieve) July 17, 2015
...and then the whore map, very similar to slut...I guess I'll need to run hoe next pic.twitter.com/M9zwn6xRrI

— Jack Grieve (@JWGrieve) July 17, 2015
The Slut Map... pic.twitter.com/srYKEDcj0o

— Jack Grieve (@JWGrieve) July 17, 2015
The Bastard Map...a weaker pattern here. pic.twitter.com/JSQECxgJBe

— Jack Grieve (@JWGrieve) July 17, 2015
Last one for now: the Fuckboy Map. Also one of the fastest rising words in 2014 http://t.co/s6uH5ZHaUz pic.twitter.com/LJ8gCTYQHg

— Jack Grieve (@JWGrieve) July 17, 2015