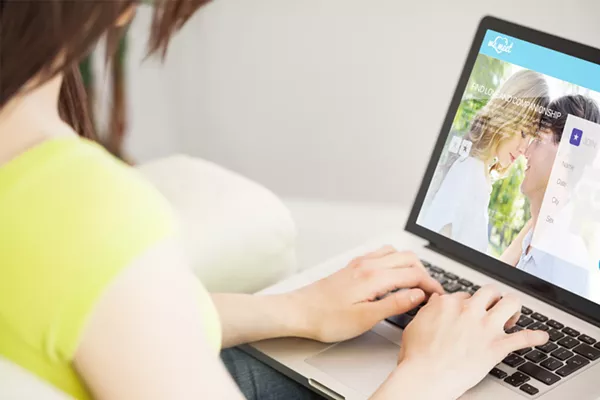 If you're single and looking to mingle, the idea of Yelp for humans might sound like a dream. Thanks to a new Ann Arbor-based browser extension DateAha!, it will soon be a reality.
Date Aha! president and co-founder Stan Bradbury, says that one of the biggest downfalls to dating in the last decade is the lack of transparency. Though not a dating site itself, what DateAha! is hoping to do is make up for years of bad dates, toxic behavior, and misleading profile photos.
"
DateAha
! gives people who are in the dating marketplace more information and allows them to add their own user-generated content about their own experiences,
"Bradbury
says. "We want to give people a voice in the digital world as much as they have in the real world by raising the level of discourse in the dating world."
The free tool, which launches Friday, Nov. 9, is a browser extension that syncs with a user's pre-existing dating profile on sites like Match.com, OkCupid, PlentyOf Fish, eHarmony, Zoosk or Badoo. Once installed, a user can leave anonymous comments regarding someone's profile based on dates or interactions gone wrong and those comments can be viewed by other DateAha! users to better inform whether or not the person is a total creep. Any comment can be replied to and the original poster will be notified — 
allowing the commenters to slide into each other's DM's without the messaging fee most platforms require.
"What we're trying to do is root out bad actors, the people who are doing bad things. We don't want it to slip into bad mouthing and attacking people for no reason," Bradbury says. "The trickiest part is when people's feelings get hurt and express emotional reactions. I don't think that's what we're here for," he adds.
Like most user-based online platforms, DateAha! monitors comments and can block people from being able to re-install the extension, and Bradbury says that during the program's infancy they plan on erring on the side of caution by deleting any comments that do not meet their terms and conditions.
Though the extension itself creates a conversation, albeit anonymously, between people who have dated or are interested in pursuing the date-ee in question, one has to wonder how DateAha! aides in the correction of bad date behavior? "Oh, you can read comments left about you," Bradbury explains. "The first wave of DateAha! users can claim their own dating profile URL for free which allows them to read other peoples feedback.
The official press release cites the #MeToo movement as being a driving force behind why now is the time for a service like DateAha!. Though, Bradbury says it is made for everyone and anyone invested in online dating, it's aimed toward making the dating world safer for women.
"For years, they've suffered at the hands of toxic messages, or sexually aggressive behavior and there's not much they can do about it. We think they could benefit the most from something like this."
Currently, DateAha! is not available for smartphone applications like Tindr and Bumble, but that's on the DateAha! agenda in the coming months. Though the process, as Bradbury says, is a little more tedious and a little less precise on the technical side of things, the DateAha!
app
will use screenshots, rather than direct URL's, to generate an ID, offering a similar forum for commenting.
The service launches tomorrow and premium features (which include being able to view comments left about you,) will be made free for the entire month of November and will be applied to the lifespan of your membership. After November, premium features will be available for 99 cents per month.
"Not every first date should lead to a relationship and not every relationship should lead to marriage," Bradbury says. "This is about deceitful behavior, wasting people's time, saying they're looking for love and then they ask for sex on the first date. Let's get honest about who we are and what we're looking for."
For more information about DateAha! and how it works, click
here
.
Stay on top of Detroit news and views. Sign up for our weekly issue newsletter delivered each Wednesday.