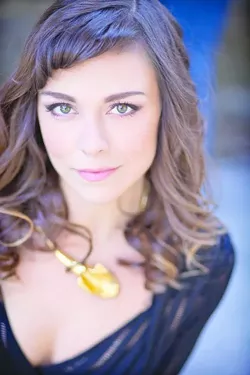 Dr. David DiChiera, the 78-year-old founding director at the Detroit Opera House, home to the Michigan Opera Theatre, is a great believer in taking opera to "the people" and removing an antediluvian notion that this art form is the purview of tuxedo-clad swanks. We met at his office within the gorgeous surroundings of the Detroit Opera House and discussed the season ahead.
Metro Times: What does the Michigan Opera Theatre have in store for us this season?
Dr. David DiChiera: I dedicated the fall season to two 19th century composers who are probably the most important in the world of opera — they dominated the century and still pretty much dominate the repertoire of opera houses: Wagner and Verdi. They were both born in the same year, in 1813, so this is each their 200th anniversary.
I chose The Flying Dutchman, which is one of Wagner's early operas and one of his most accessible; and Verdi's La Traviata, which is again one of his most famous operas. Did you ever see the movie Pretty Woman? When Richard Gere takes Julia Roberts to the opera, they were watching La Traviata. That's a fun scene. That's our fall season.
In the spring, I'm doing a contemporary American opera called A View from the Bridge, based on a famous American play by Arthur Miller. The interesting thing about that opera is it's about illegal immigrants; Italian immigrants, in the late '30, early '40s.
It's kind of a Greek drama about an incestuous relationship. Bill Bolcom, the composer, is from U-M and he's one of our country's most successful opera composers. I thought that it was important to showcase our own Michigan composers. Then we end with a big, grand opera by Puccini called Turandot, which is a Chinese fairy tale. It has probably the most famous tenor aria, "Nessun Dorma." Even pop singers sing it.
When Pavarotti was getting a music award and he couldn't come, Aretha Franklin sang it for him. She loves opera.
MT: Who is the typical Detroit Opera House patron?
DiChiera: I'm very focused on making opera accessible to people and particularly attracting a younger generation. The schools are no longer doing what they used to do, with the financial situation. The arts are the first thing to go. We have a program called Access. If you're younger than 35, you can get a ticket for $25. With your ticket, after the performance there's a reception in the cafeteria and you get a free drink — and the cast comes through.
MT: When people think of opera, they may often think of a prototypically robust lady singer, like Montserrat Caballé …
DiChiera: It's changed dramatically, with the advent of television and the movies. With La Traviata, I have two casts. Both leading ladies are very glamorous. It makes a difference. The only time you make an exception is when it's somebody like Pavarotti, and then you don't really care. Just tell them to open their mouth. I work very hard to make sure we have great diversity and reality on stage.
MT: Who are the singers and musicians to look out for this season?
DiChiera: Quite a few, actually. For La Traviata we have a really beautiful singer called Corinne Winters. She won the Singer of the World award. She's very glamorous. Lise Lindstrom is in Turandot. I was just reading that she was making her debut at the Royal Opera and they were saying that she's the world's foremost Turandot, which is one of the most demanding roles in the repertoire. I was pleased to see that the English thought highly of her. Our senta in the Flying Dutchman is from Sweden and her name is Elizabet Strid; lots of talent.
MT: There's some controversy surrounding Wagner; that he was anti-Semitic?
DiChiera: There was that feeling, but the irony of it was that the person he worked with most was a Jewish conductor. It was the Nazis that picked up on him. They created that image. He was their favorite, but he didn't pick them. In Israel, you'll hear very little Wagner, although there's a famous Jewish conductor who decided that it was silly and has performed some Wagner. That same conductor, Daniel Barenboim, has created an orchestra of young musicians, both Palestinian and Israeli. When musicians come together, all the rest of it disappears. Wagner was so important though. Composers after Wagner either composed to get away from him, or to emulate him. He was that significant.
MT: What would be a good starting point for the newbie this season?
DiChiera: La Traviata, and A View from the Bridge, which is in English. La Traviata would give you a more traditional experience, with beautiful music that people will recognize. A View from the Bridge is just a good play that has been given another dimension.
MT: Respond to people who think the opera is "not for them," but for the tuxedo-clad champagne drinking set?
DiChiera: That image came about in the last century in New York City, because the Metropolitan Opera was supported by the 400 [old money families]. They had the boxes. In Europe, opera was for everybody. We do that now. We have student performances. Maybe on opening night, when we get a number of the major donors, it's a little like that. They're paying half of the bill, whereas in Europe the government picks it up. I see everything here, in terms of dress; there's no dress code. But you know, I tell some of my younger male friends that the best way to make an impression on a girl is to say, 'Would you like to go to the opera?' Straight away, she'll think, 'There's more to this guy than I thought.' I've had a number of those friends some back to me and tell me that they scored that night. You can't lose either way. A good opera, and whatever else. Appealing to young people is most important. It's a graying audience. That's why we started the Access program. It's been really exciting. We also like to do things out in the community. I'm for bringing opera singers into a bar without any kind of announcement, and have them start singing arias, and have a sign that says, 'You are experiencing a random act of culture.' Getting media attention is difficult. It's a challenge. It's not easy, keeping cultural institutions alive.
The Detroit Opera House is located at 1526 Broadway, Detroit; 313-237-7464. For more information, visit michiganopera.org.
Brett Callwood is a staff writer for Metro Times. Send comments to [email protected]