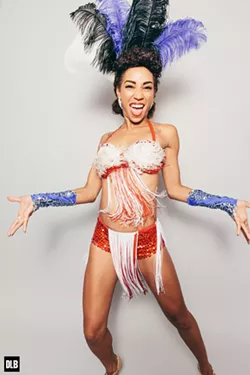 There's a thin line between gaudy and glam, but when it comes to burlesque, it can be devilishly fun to toe. Slink on over to the sultry stage at the Hastings Street Ballroom for a dazzling night marked by the heart-thumping pace and extravagance of classic vaudeville.
In the fifth annual production, patrons can expect feathered frocks, sharp stilettos, fishnets galore, a whole lot of rouge, and limelight-loving showstoppers covered in glitter. Headliners include Bella Sin, Red Rum, Mr. Gorgeous, and Jeez Loueez.
The Michigan Burlesque Festival runs Friday, Sept. 15 and Saturday, Sept. 16 at the Tangent Gallery/Hastings Street Ballroom. Doors open at 715 E. Milwaukee St., Detroit. For more info call 313-873-2955 or go to michiganburlesquefestival.com. Tickets are $25-$30 at the door.