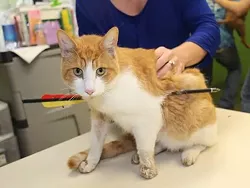 Eaton County police are asking for the public's help in identifying the person responsible for shooting a cat with a crossbow bolt.
Animal control picked up the orange-and-white male cat in Kalamo Township yesterday after a resident found the injured feline hiding under a porch.
The Detroit News reports
:
"The cat had been shot with a crossbow bolt (arrow), the bolt had a target tip," sheriff's officials said. "The owner of the cat has been identified and cannot afford veterinarian care for her pet. The owner last saw her pet on Saturday."

The injured cat was taken to the Capital Area Humane Society, where it underwent surgery to remove the bolt, authorities said.

While the cat, nicknamed "Kitty," made it through surgery okay, the arrow caused significant damage to the lungs.
Anyone with information on the shooter is kindly asked to contact local authorities at 517.543.5755.