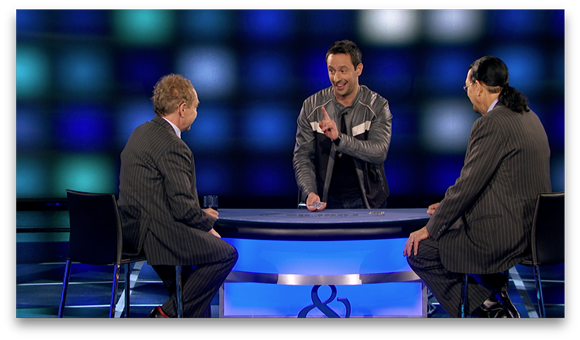 Update 10:37 a.m. Wednesday, Sept. 16:
Rick Lax successfully tricked Penn & Teller with his original card trick, called "Binary Code" — in fact, he was the only successful trickster in the episode. Watch the performance below:
Originally posted 7:00 a.m. Monday, Sept. 14:
Rick Lax is a West Bloomfield native whose love of performing magic tricks took him to Las Vegas, where he recently helped develop a Penn & Teller-starring SyFy channel reality TV show called
Wizard Wars
. (We're particularly fond of the dude because we regard him as
a fellow alt-weekly traveler
.
Also, one time he helped us out
by investigating
Las Vegas' Detroit-themed casino, The D.)
Anyway, Lax dropped us a note to let us know he'd be appearing in an episode of Penn & Teller's other show,
Penn & Teller: Fool Us.
The show has magicians try and outsmart the magician veterans by performing a live trick in front of them. But Lax points out that he didn't get on the show based on his previous work with the duo.
"I sent in an audition tape just like everyone else," he tells us by email. "The person casting the show had no idea that I'd created a separate show that starred Penn & Teller. I wanted to be treated just like every other contestant."
Since the episode doesn't air until Monday night, Lax's lips were sealed on whether he was able to stump the master magicians. However, he did tell us that he performs an original card trick — "a seemingly impossible memory and card tracking demonstration" — on the show.
"I've done it for friends many times, but I've never done it in a show or for a large group," he says. "Then again, I don't really do any shows or gigs, so I don't have much real-world experience with any trick."
Does this mean Lax is ready to take his performing career to the next level? "I'm 33, so it seems a little late in the game to start a career as a performer," he says. "That said, two weeks from now I'll be performing at Hollywood's Magic Castle (for the first time) …so I guess anything's possible."
Catch Lax on
Penn & Teller Fool Us
, which airs at 8 p.m. on Monday, Sept. 14 on the CW.