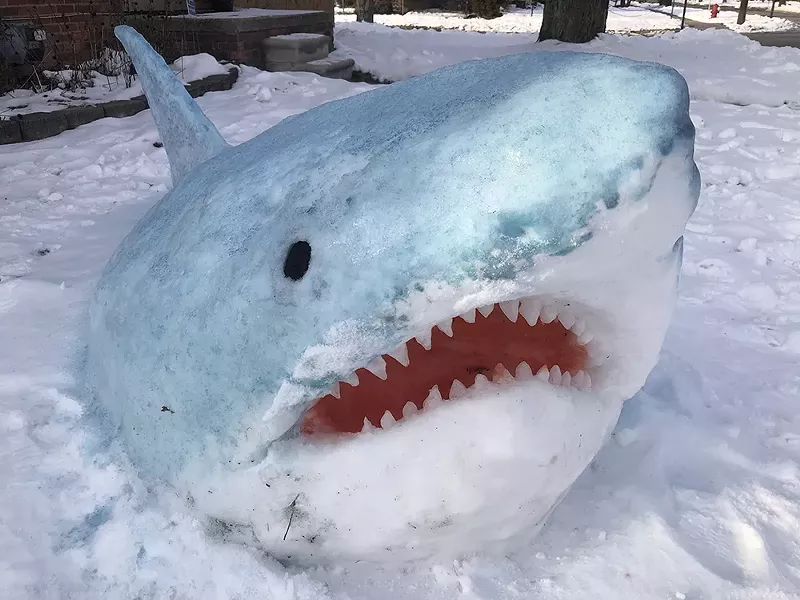 While some people in Michigan create snowmen during the cold winters, Jennifer Ramirez takes things a step further by using her love of art to showcase her skills sculpting the snow.
After last week's snowstorm blasted through the metro Detroit area, Ramirez had the idea to sculpt great white sharks in her front yard.
"It's so crazy how many people are stopping by and taking pictures," Ramirez, 52, says with a smile. "They are going crazy about it. I simply was hoping to put a smile on someone's face."
In Madison Heights, the snow sculptures can be spotted at the corner of Edward and Katherine Avenues.
Ramirez created the sharks using snow, ice, and food coloring.
"I used the snow that I shoveled from our driveway and put it in the grass to make a snow mound," she explains.
Once Ramirez had her shark's base in place, she wanted to add some color to make it come to life.
"I decided to use food coloring mixed with water inside of a spray bottle to paint the shark blue, and the inside of his mouth I sprayed it red," she says. "I also used water and ice to create the teeth in the shark."
Ramirez says she gathered pieces of ice from her driveway and used them to make the sharks' teeth.
"I used my driveway to file down the sharks' teeth," she says. "It was a lot of work because I used my bare hands."
Ramierz says it took her between four and five hours to build the snowsharks. Given the cold conditions in the metro Detroit area, she expects her sculptures to last for a while.
"The most challenging part about creating this shark in the snow was finding the time," she says. "It takes a lot of time and patience to build. You have to be creative during the process."
After spending several hours playing in the snow, Ramirez went inside her house to relax with a warm blanket and cozy socks, watching visitors taking photographs of her creations.
"I watched a kid come up to the shark and make a silly face as if the shark was trying to get him," she says. "I thought that was so neat."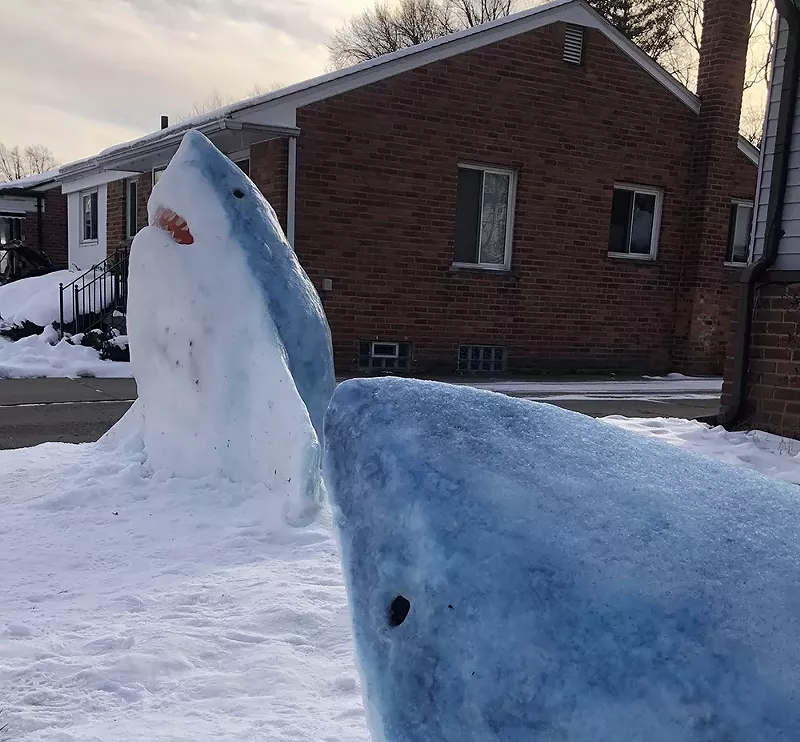 For the Oakland County resident, this snow sculpting is nothing new. Each year, she eagerly awaits creating a different figure.
"I have done snow sculptures several times," she laughs.
In previous years, she has sculpted a fox, a cub, and a koala, as well as snow sculptures of Pokémon and Angry Birds characters.
Throughout the years, Ramirez has evolved into a versatile artist. She creates artwork through painting, sewing, sculpting, and photography in addition to teaching art at Eisenhower High School in Shelby Twp.
Tony Davis of Madison Heights says that he enjoys driving by Ramirez's house and admiring her artwork.
"My kids call this the shark house now," he says. "It is fun to see. She must have put in a lot of time doing this project."
Ramirez expresses her happiness that her neighbors are appreciating her work in the snow. She says that she also paints her privacy fence in the summer to add some excitement to her yard.
If more snow happens within the next few months, Ramirez plans to add sculpted rocks with seals on top of them.
"If I don't do the seals, I plan to do penguins or I can do both," she says.
She adds, "With everything happening in the world, I'm happy to bring joy to people."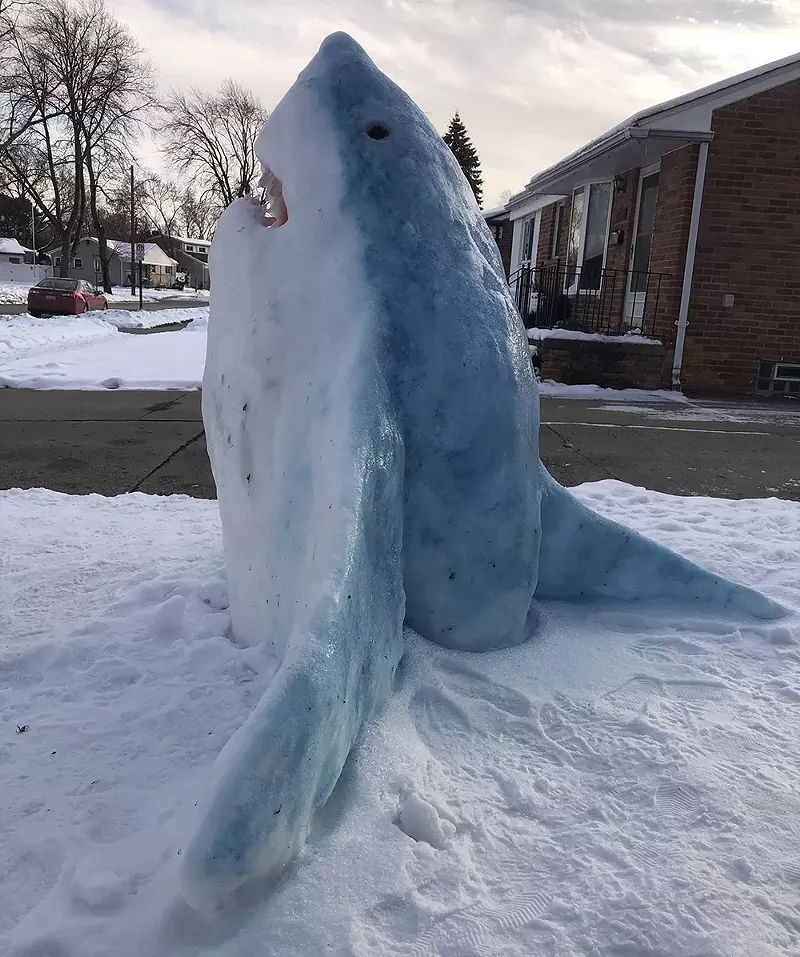 Coming soon: Metro Times Daily newsletter. We'll send you a handful of interesting Detroit stories every morning. Subscribe now to not miss a thing.

Follow us: Google News | NewsBreak | Reddit | Instagram | Facebook | Twitter