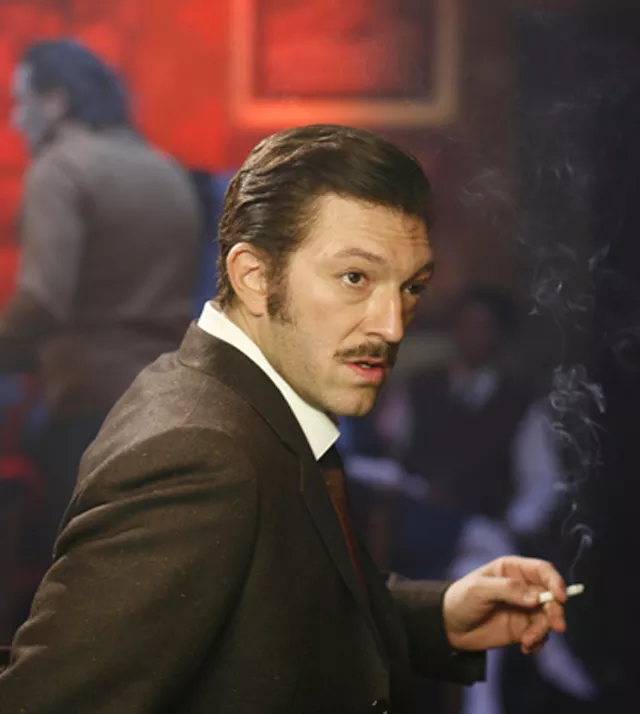 Mesrine: Killer Instinct and Public Enemy
GRADE: B-
American cinema has produced two distinct film genres — the western and the gangster film. Though few European directors have been attracted to the first (Sergio Leone being the obvious exception), the French can't seem to get enough of the second.
Their love affair with American-style criminal antiheroes is almost as old as cinema itself and, it appears, continues unabated with Jacques Mesrine, a Gallic John Dillinger whose bank robberies, kidnappings, murders, and prison breaks in the 1960s and '70s enthralled, terrorized and seduced the French into believing he was a bona fide celebrity (he was once voted the most popular man in France).
Jean-Francois Richet's two-part, four-hour biopic suffers from the same delusion, believing this cunning and ruthless thug is worthy of legend status, an anti-establishment rebel who deserved to wear his Public Enemy label as a badge of sociopathic success. Using the entire canon of Hollywood gangster films as his template, Richet's direction is crisp and nervy, delivering inventive and frantic action scenes filled with explosive violence. In the moment it's thrilling stuff, but strung together over hours it becomes clear that he has absolutely nothing to say about Mesrine.
Algerian War veteran Jacques Mesrine (Vincent Cassel) returns from his brutal tour of duty and quickly falls into a life of crime, as he is taken under the wing of a vicious mobster named Guido (Gérard Depardieu). Attracting and disposing of wives (Elena Anaya, Cécile de France, Emmanuelle Sagnier), between prison stints, he engages in over-the-top acts of murder and vengeance. At one point a botched kidnapping lands him in a brutal Montreal prison. But even that isn't enough to hold him. Mesrine is nothing if not resourceful, busting out of prisons and evading the authorities with criminal panache.
Was Jacques born a sociopath or turned into one by his domineering mother and a military that welcomed his sadistic instincts? If Richet has an opinion he isn't letting on. Mesrine is essentially a slick and shallow exercise in misguided myth-making, confusing chronological facts with plot. Lurching from one taut set piece to the next, the movie is relentlessly paced and equally episodic. And despite Richet's exacting sense of period detail — including cheeky split-screen imagery — there's little period context. He captures the look and feel of the '60s, but presents it in a stylized vacuum, telescoping the superficiality of his exercise.
The second film, Public Enemy, picks up where Killer Instinct left off, pushing into the darker, grittier 1970s with Mesrine's police capture and daring courtroom escape. He and fellow inmate Besse (Mathieu Amalric) continue their brazen crime sprees, going so far as to embrace the anarchic politics of Germany's Baader-Meinhof gang. Meanwhile Jacques' arch-nemesis, detective Broussard (Olivier Gourmet), closes in, forcing the celebrated bad-boy to don increasingly ludicrous disguises.
Cassel tackles his role like it's the ultimate one-man show, filling his mustachioed character with a feral swagger that conveys tightly coiled threat and sexual charisma. It's not a particularly insightful performance, but it certainly feels authentic, making clear why so many were enthralled by Mesrine's exploits.
As entertainment, the Mesrine films are undeniably harrowing, filled with the kind of fast-paced, sexy tough-guy filmmaking that attracts many a movie fanboy. But when you compare them with the gritty black comedy genius of Goodfellas or the operatic theatricality of The Godfather, it's clear that Richet is mostly cribbing from directors who actually had more than cool scenes and stylized shots in mind. Like the reckless and despicable acts Mesrine perpetrated, his movie is an empty rush.
Showing at the Detroit Film Theatre (inside the DIA, 5200 Woodward Ave., Detroit; 313-833-3237) at 7 p.m. on Friday and Saturday, Jan. 14-15, and at 2 p.m. on Sunday, Jan. 16.