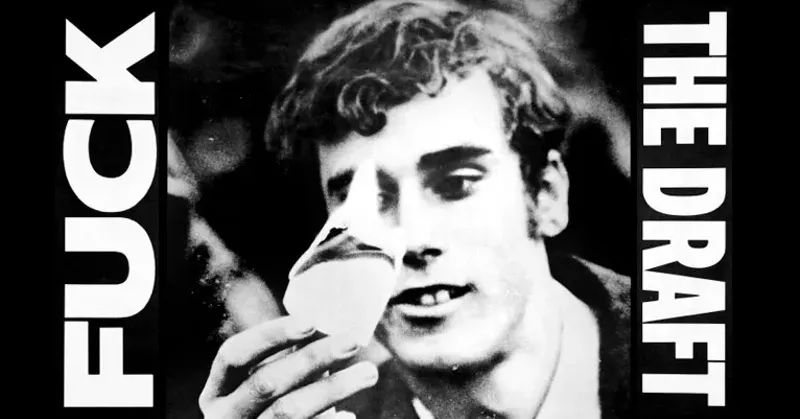 An event this weekend will mark 50 years since anti-war activists attempted an "exorcism" of the Pentagon, and will feature the man from Detroit who burned a draft card and became part of a historic piece of anti-war agitprop.
It's a long story,
one that has been told better several times before
. Bill Greenshields and some other Detroiters resisting the military draft for the Vietnam War made their way to Washington, D.C. in October 1967. That's where Allen Ginsberg, Abbie Hoffman, Ed Sanders, and the Fugs were leading a protest that would "levitate" the Pentagon and exorcise the building of its evils.
No brick or mortar were elevated, of course. But as this all took place, draft resisters were burning their draft cards. Perhaps it was something in the way Greenshields seemed hypnotized by his flaming draft card that made somebody snap a photo.
That photo would soon appear in Kiyoshi Kuromiya's famous "Fuck the Draft" poster, which Greenshields
would only discover later
, in an underground magazine published by his childhood friend Harvey Ovshinsky, some rag called
The Fifth Estate
.
After his family and friends were questioned by the FBI,
Greenshields decided
, "discretion is the better part of valor here, so I decided to get out of Detroit, hitchhike out west and keep moving around."
Now, 50 years after the protest at the Pentagon, Greenshields will speak at Trinosophes. He's reputed to be quite a storyteller, and should be an entertaining speaker.
An original copy of Kuromiya's poster is on exhibit at the Museum of Contemporary Art Detroit's
Sonic Rebellion
exhibit.

Out, Demons, Out! featuring Bill Greenshields with special guests, takes place after 9 p.m. on Saturday, Nov. 25, at Trinosophes, 1464 Gratiot Ave., Detroit; 313-737-6606; $6 admission.