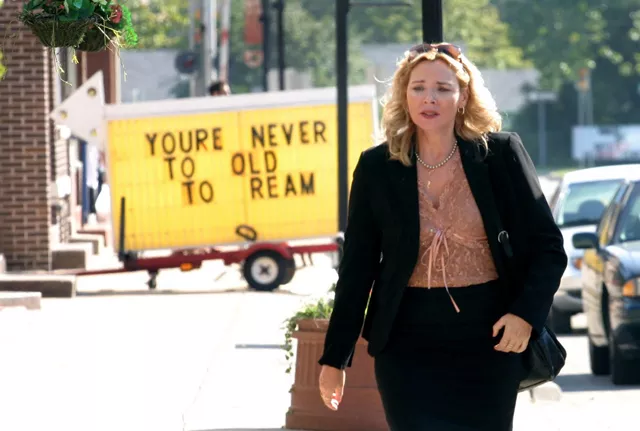 Meet Monica Velour
GRADE: C+
Monica Velour (Kim Cattrall) was a major adult starlet back in the glory days when porno films had plots and budgets; her finest work probably played in a seedy pre-gentrification Times Square theater seen in Taxi Driver. Of course, in this era of streaming hot-and-cold running smut featuring anal 18-year-olds, nobody has much use for a dried-up skin queen, nobody, that is, but a weirdo teen connoisseur who considers her the ultimate pinup dream girl.
With few other post-graduation summer prospects, nerdy Tobe sets off cross-country in his beat up hot dog vending truck to catch a strip club appearance by his spank-bank icon in some especially sad sack corner of Indiana (filmed in Michigan). There, the dweeb gets instantly beat up by barroom louts, and the drunken, washed-up Monica takes pity on him, only after lifting cash from his wallet, and these mismatched misfits begin to form an unlikely bond.
Does this sound like the makings of a heartwarming coming of age tale to you? Apparently it did to writer-director Keith Bearden, who happily rides the line between tender and skeevy in this scruffy indie charmer. The tone attempts to find that comedic sweet spot of affectionate vulgarity achieved in Bad Santa and better John Waters flicks, but doesn't always land there. The movie is crippled by the clunky, unlikable lead performance of newcomer Dustin Ingram, who appears to be auditioning for a Napoleon Dynamite prequel. As bad as he is, he's countered by a lively, dark and nuanced turn by Cattrall, who does her best to erase the ghastly after-image of those Sex and the City movies from our memory. Her gutsy work is almost enough to salvage the pic from the clichés and flat gags, but nothing can counter one truly horrid sight. I could have lived a thousand life times blissfully unaware of what Brian Dennehy's flabby ass cheeks look like, but these are the occupational risks. ...
Showing at the Birmingham 8 (211 S. Old Woodward Ave., Birmingham; 248-644-3456).