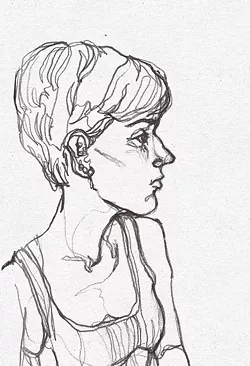 We first learned about illustrator
Meredith Miotke's work
from the College for Creative Studies annual student exhibition a few years ago, when we saw her
maps of Detroit
project. We weren't the first publication to appreciate her work — since then, she's created illustrations for
Crain's
and
Loveland Technologies
. We spoke to Miotke, who now lives in Boston, by phone to learn more.
Metro Times:
Thanks again for your hard work on that illustration. You really went the extra mile!
Meredith Miotke:
No problem. Sorry, I get really involved with things when I draw them! It was a lot of fun.
MT:
How did you create that image?
Miotke:
I drew it out in ink first, like all the streets and houses. Then I scanned it in, and colored it with a Wacom tablet in Photoshop.
MT:
Is that how you typically work — pen and ink, and then finish it digitally?
Miotke:
Yeah, always. I can't really go straight into it digitally. My lines are kind of shaky, and it doesn't get that texture to it. I like being able to move the paper around, and the surface of the paper is better than the surface of the tablet.
MT:
I remember seeing your Corktown stuff at the student show.
Miotke:
It was for my senior thesis with Dave Chow. I was having a really hard time figuring out what I wanted to do for that. I like Detroit, and I like travelling, and I like history, and I like food. When I navigate places, it's always based on what places there is to get something to eat, or some kind of landmark like that! So I thought I'd make a map of that! (Laughs)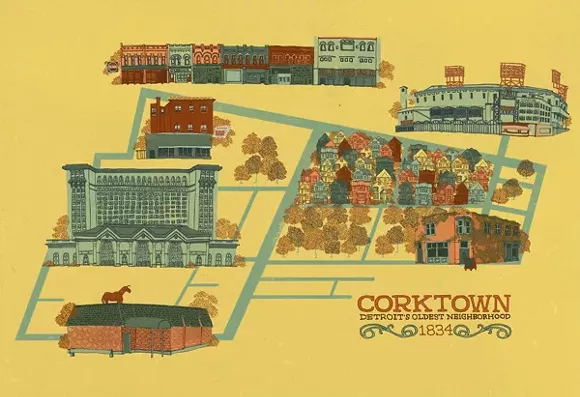 MT:
Did you do a lot of other map stuff after that?
Miotke:
Actually, I hated — well, I didn't hate, but I really didn't like perspective or the thought of buildings before I did that project. Since then I've done a Belle Isle map, Midtown, Eastern Market, and a couple for a couple other clients like the Skillman Foundation, Loveland, and
Crain's
. I know Detroit pretty well now. (Laughs)
MT:
You live in Boston now, right? So you're like, vicariously living in Detroit through these maps.
Miotke:
I miss Detroit a lot! So it's kind of nice to get these projects.
MT:
Are you from the metro Detroit area originally?
Miotke:
I grew up in Dearborn.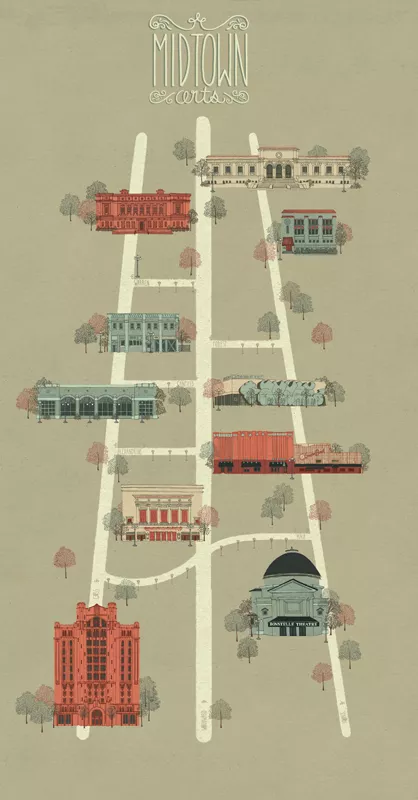 MT:
What other kinds of freelance work have you done?

Miotke:
Most of it is in Detroit, which kind of surprises me. I'm trying to get some stuff outside of Detroit. I like freelancing.
MT:
You have a day job working at Converse in Boston, right? What do you do there?
Miotke:
Graphics. So I'm actually drawing pictures all day. We do patterns and things like that.
MT:
We met your co-worker Victor "Marka27" Quiñonez
painting a mural in Southwest Detroit
last weekend.
Miotke:
I'm so jealous that he got to go to Detroit for that! He was like, "Have you ever been to the Bronx bar?" I'm like, "Of course I have! I've drank, um, way too many soft drinks there!"
Check out Miotke's work
in this week's Metro Times
, or see more on
her website
.