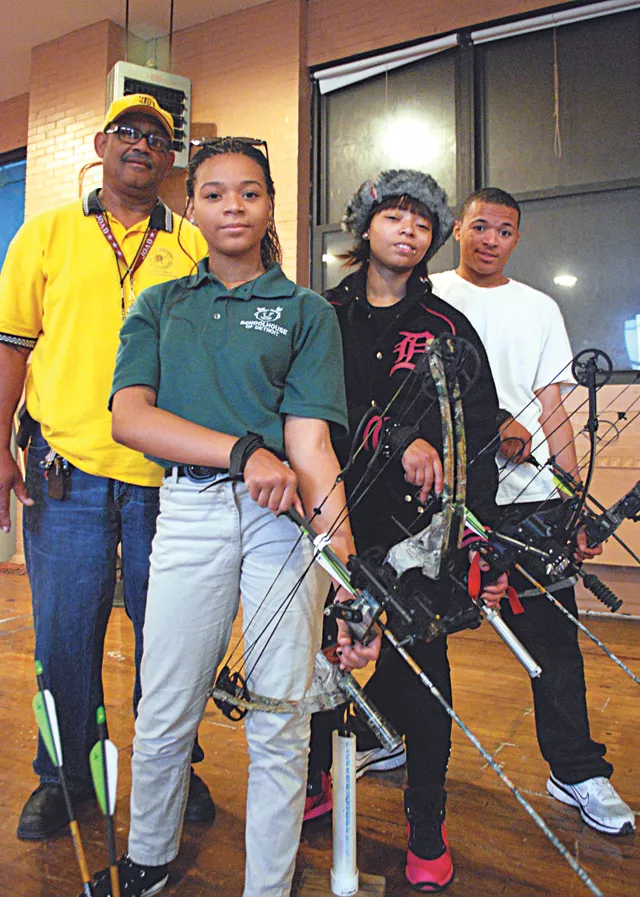 Eric Tomlinson loves bows and arrows. Has since he was a kid. And for years, Detroiters into archery had to head to the suburbs for target practice, because there was nowhere in the city for them to go.
So he'd shoot at archery clubs in places like Lake Orion or West Bloomfield, where he'd see parents putting their kids through vigorous lessons, training them like they were trying to earn a spot in the Olympics.
These parents, he soon learned, weren't just trying to create expert marksmen. It turns out there's such a thing as an archery scholarship at several colleges around the country, and those parents were training their kids so they could earn scholarships at those schools.
There's a lot less opportunity for kids in Detroit to go to college, Tomlinson reasoned, than there is out here among better-off families. Those scholarships could really go to use in the city, where hard-working kids sometimes have good grades but not the means to go to a good school. "I said, man, I'm gonna take that to the inner city," the 62-year-old says.
But archery? In terms of street cachet, it ranks somewhere alongside rowing or fencing. Tomlinson would have his work cut out for him getting kids from Detroit interested in something so foreign to urban culture.
"You know, it was a battle, because most of the inner-city kids do not even know what archery is," he says.
Tomlinson got his first bow-and-arrow set when he was 9. "My mother wouldn't buy me a gun to play with, and she realized that most kids want to shoot something, so she bought me a bow," he says.
Before that she'd see him and his friends bending tree limbs, latching a string to them and fashioning arrows from sticks topped by bottle caps that were bent into a cone point. After he got a real bow and arrow, a little fiberglass model from a dime store, he practiced hard, entered tournaments, learned to hunt in the woods with it.
He got married at 18, worked for a steel company for a quarter-century before hurting his back and retiring on medical grounds, and spent his free time tutoring kids in after-school programs in Detroit.
Then he heard about those scholarships. And it gave him a mission.
In 2004, he rented a building on the west side, set up a target range and a pro shop, and founded Elite Archery, a program whose sole goal was training kids to essentially shoot their way into college.
But he needed students. Since archery was unknown among city kids, Tomlinson utilized his children and grandchildren as bait to draw interest. "I got at least nine or 10 grandkids or kids that started shooting when they were like 7, 8, 9, and that's who I started with. I said, 'Now what's going to happen is kids see y'all shooting, they're gonna want to shoot too.'"
It worked. Through word-of-mouth Tomlinson had been getting invited to speak at Detroit schools and demonstrate his sport to classes. And he found that when you show something new or different to variety-starved kids from places that don't have the resources to offer things like archery, they go crazy for it.
"Every school I've taught at, the kids just overwhelm me trying to get into the program," he says. "Every kid wants to get into archery. I love the sport and I want to share it, and I figure if kids don't understand and know what archery is, once I bring it in I knew they were going to love it too."
Only a few years after opening his academy and store, his landlord sold the building. Tomlinson was suddenly a pro shop owner without a shop. He had to haul all the equipment from the store to his house, where he set up the pro shop in his basement, so his students and customers would still have someplace to get their equipment. It still resides there.
"But I needed a place for my kids to practice," he says. To get a scholarship, they're required to shoot in several tournaments a year, earning rankings and showing evidence of long-term dedication.
Mike Wilson, who knew Tomlinson from the after-school programs they'd volunteered for, had just gotten permission to use a defunct elementary school to host programs there. He told Tomlinson he could borrow a classroom there to teach his students, but on one condition — he'd have to teach an after-school archery class there, too. Wilson realized it could have effects on the kids beyond the sport itself.
"I saw discipline, I saw self-esteem enhancement, and I saw also teamwork," he says of Elite Archery. "I've seen a lot of kids in the program improve immensely."
Mecca Vance, one of Tomlinson's current students, is all self-esteem. Why does she like archery? "Because I win in it," the 13-year-old says, proudly. "I'm always first place. My whole basement is full of trophies." She's going for the scholarship to become a nurse.
Soon, kids weren't the only ones falling for the sport. Karen Austin, whose 12-year-old son Jesse begged for archery lessons until his mom found Tomlinson, came to her son's first class, saw the archers firing at targets and wound up fascinated. She shoots with the kids twice during the week now.
"It kind of pulls you in," the 48-year-old says. "Once you start you can't stop. It romances you, it kind of takes you back, makes you feel more in tune with yourself and nature. It's peaceful. If I've had a stressful day at work or anywhere all I say is I can't wait until Monday, I can't wait until Wednesday."
But archery still isn't always such an easy sell in the city.
Austin's son Jesse was first drawn to archery after seeing some old Western movies. He's gotten pretty good at it since he began taking lessons about a year ago. But he won't reveal to his friends what he does.
"I never told them," he says. "They're into basketball and football and, like, the major sports. They won't understand."
The kids are playing on their cellphones. Or talking. Or wandering around, distracted. But when Tomlinson blows his whistle, the kids line up like troops.
They're inside a cavernous old classroom in the Woodbridge Community Youth Center. Several bull's-eye targets stand at one end of the room, and lines on the floor show shooters where to stand.
"On the line, let's go!" Tomlinson yells. His students call him "coach" for his demeanor. "Get in your stance." The kids line up, aim their bows, pull their drawstrings back and let loose a volley of arrows that hit their target with an echoing thud. Every shot is aimed at creating a better future.
All these years of these practices and tournaments, all the effort it took to establish his program, finally paid off recently when one of his students earned a archery scholarship to Michigan State University based on the skills Tomlinson spent years teaching him. The coach mentions it frequently, with excited pride.
"In fact I was so proud I gave him my $800 target bow, so it could be apples and apples up there." The kid had a hunting bow, but the other students have target bows. Tomlinson didn't want him to stand out or feel different from the suburban kids there. He'd earned his place in school the same way as them, after all.
It was the first success in the coach's mission, born when he would shoot at places like the Detroit Archery Club in West Bloomfield. That club started in Detroit nearly a century ago, and though it left the city years back it took its name with it, an ironic keepsake serving as a reminder that archery hadn't existed in the city for a long time, at least until a retired Detroit steelworker brought it back.
"I tease them all the time about that," says Tomlinson about the club. "I said, 'Y'all might have the name "Detroit Archery," but I am Detroit archery.'"