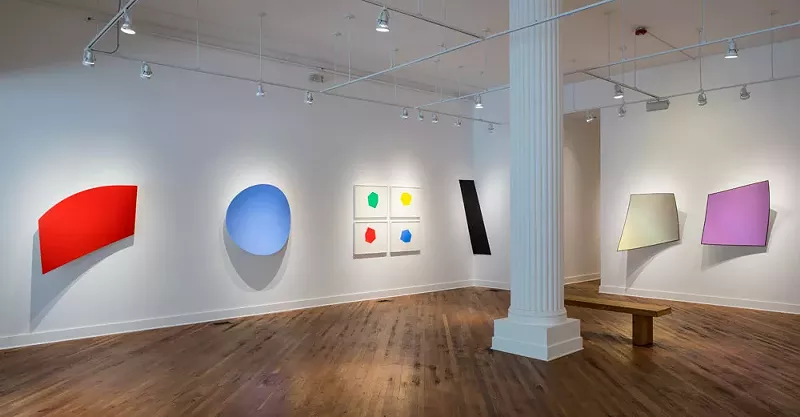 When it comes to painting, there's a lot we take for granted. For one, a square or rectangular canvas is a given. Two, we assume it's a flat surface.
But what if neither of those things were true? That's the premise of artist Matthew Hawtin's deceptively complex "torqued" series, of which new work is currently on view in Detroit's David Klein Gallery.
If you looked at his paintings head-on — particularly at a photo of one — you would be forgiven if you thought you were looking at a flat rectangle, with subtle gradients of color. In fact, his paintings are typically one flat color. The range of colors are simply created by shadows on what is actually a warped surface.
"If you know anything about painting, you have a wooden stretcher frame, and you stretch the canvas," he explains during a recent visit to the gallery. "This structure has got alternating depths, so when I stretch the fabric over the top, that's how I get this curved surface."
Other works in the show are constructed from shapes milled out of fiberglass panels — some are even circular. Hawtin says all of them are cast from the same mold, but, depending on how he cuts it, can drastically alter the shape of the panel's curves.
Just mounting the pieces, he says, can be a challenge. "It looks simple, but it gives me a lot of headaches," he says with a laugh.
And with some of them, it's about knowing what he can control and what he can't.
"The lighting, it comes after. It's just sort of one of these happy things, an interesting element that happens," he says. "Every gallery is different. Sometimes you can move stuff. But it's not like, 'this is the shadow I want.' I'm not always going to get that shadow."
England-born, Windsor-raised Hawtin says he studied painting in college, at Toronto's York University. (The artist currently resides in Royal Oak.) After graduating, Hawtin says he returned home to Windsor and laid low and developed his new style. "It was kind of like, 'What am I going to do?'" he says. "I made a conscious decision not to show for about five years, until I had a body of work which I felt was good enough to show."
That's when he developed his "torqued" technique, while working out of his studio in Windsor's Walkerville neighborhood. (He shared the studio with his brother, Ritchie Hawtin, as well as aesthetic sensibilities — Ritchie is perhaps appropriately best known as a pioneer of minimal techno).
The David Klein exhibition features other works that are equally mind-bending, including black vertical pieces that are mounted in the corners of the room. There are also a number of prints on display, based on drawings of studies of his paintings — in other words, two-dimensional versions of his three-dimensional work, which are originally a three-dimensional twist on the concept of two-dimensional paintings.
Which begs the question — is Hawtin a painter, or a sculptor? Both? Neither?
"I'm split right down the middle," he says. "But in the end, I'm a painter."
Matthew Hawtin will give an artist talk at 6 p.m. on Thursday, Oct. 12 at David Klein Gallery, 1520 Washington Blvd., Detroit; 313-818-3416; dkgallery.com; Exhibition runs through Oct. 21.