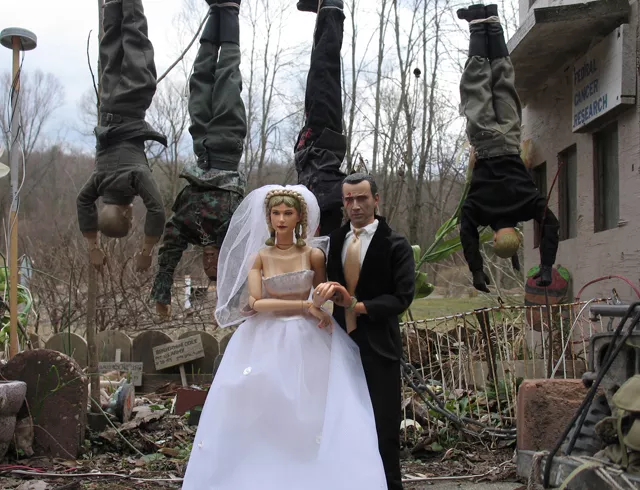 If I tell people who I am and what I'm about, I'm true to myself. That means I'm not lying to myself. What they do with it is on them.
—Mark Hogencamp
America is filled with stories of second acts and second chances, but few involve a fictional town filled with Barbies and GI Joes. Yet that's exactly where Mark Hogencamp is able to reflect on and recover from the physical, psychological and emotion damage he's had to endure.
Beaten to within an inch of his life by five men, the 38-year-old suffered from extensive brain damage; much of his memory has been lost and, temporarily, his motor skills. Hogencamp's hands shake from the trauma. Determined to create a better world than the one he lives in — and refused the rehabilitative care he needed — the former alcoholic conceived of Marwencol, an imaginary World War II Belgium town, where his doll-sized alter ego runs a secret bar for American GIs — a bar the Nazis will do anything to find (no doubt because of its staged catfights between sexy Barbies). Crafting 1/6th-scale characters, Hogencamp provides each with an elaborate personality and backstory. Many are based on Hogencamp's friends and neighbors. The town itself is an amazing reproduction, slavish in its details and verisimilitude, with story moments lovingly captured in photographs Hogencamp meticulously creates on his film camera. His compositions are astonishingly lifelike, and the elaborate soap opera he's created for his characters — including Nazi interrogations and tortured love triangles — act as a kind of instinctive therapy for the chain-smoking artist.
First-time director Jeff Malmberg does almost everything right in his stunningly empathetic documentary. Where other filmmakers might have focused on Hogencamp's dramatic recovery or the mysteries he's forgotten about his past self or the oddball creation of Marwencol and the eventual attention it gets, Malmberg instead puts the focus squarely on his subject, patiently developing a three-dimensional portrait of this fascinatingly odd man. Gently coaxing Hogencamp to trust him, Malmberg establishes a painful intimacy that never feels exploitative or mawkish. Patiently and with great respect, he reveals the unusual facts of Hogencamp's personal life and the reason for the attack.
Hogencamp is clearly handicapped, yet how deeply and to what extent is never clear. He effortlessly slips between reality and his handmade fantasy world, while still maintaining an honest understanding of how others might perceive his unique compulsions. One wonders if the brain damage is what makes him so confessional, and whether Malmberg relied on Hogencamp's loss of personal filters to capture his hurt and rage at those who attacked him.
Somewhat frustrating are the unanswered questions about Hogencamp's past, the facts that would give greater context to the man he was. Why did he become an alcoholic? What happened to his marriage? Why does he have an obsession with World War II (before and after the assault)? None of these undermine the touching and mysterious joy the film generates, but more information would have been welcome.
Late in the documentary, Hogencamp's photos are discovered by a New York photographer and he's persuaded to show his "outsider art" at a Manhattan gallery. Watching his discomfort under the bright light of attention, and his general lack of interest in fame, further endears Hogencamp to the audience, making clear that his creations are ultimately for him and him alone. In fact, they become an interesting window into his emotional state as the "discovery" of his work inspires a plot by German dolls to uncover the location of Marwencol's beloved speakeasy. It can't be a coincidence that Hogencamp uses the New York photographer's likeness in one of his Nazis.
Cinematically untidy yet always engaging, Marwencol is a revealing and unsettling examination of life reflected in art as its reflected back into life. It's a testament to the transformational power of creative expression and an unforgettably touching examination of a man who forgot who he was — then found a path toward becoming uniquely complete.
Showing at the Detroit Film Theatre (inside the DIA, 5200 Woodward Ave., Detroit; 313-833-3237), at 7 p.m. on Friday, March 11, and at 2 p.m. on Sunday, March 13.