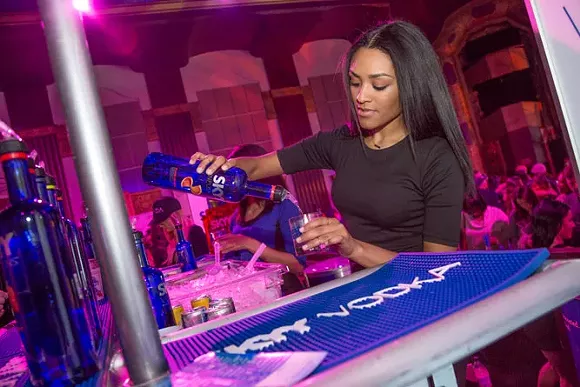 Michigan winters are hard — seriously, if you can survive winter in Michigan you can probably survive anything — but they don't have to be boring. Part of getting through the coldest, grayest months of the year is knowing how to make the most of them. Maybe you made a New Year's resolution to get out more, or meet new friends, or try new things. Here's a look at upcoming events this season to help you pass the time until spring. (Though if you'd rather just hibernate and watch Netflix for the next two months, we totally understand and will not judge you.)
Jan. 21
Vodka Vodka
Metro Times' annual tasting event returns for its eighth year of vodka-sipping, music, fashion, and mischief. General admission tickets include 10 drink tickets and a commemorative glass, while VIP tickets include 12 drink tickets, glass, appetizers, and access to Tito's Handmade Vodka Terrace situated high above the crowd. This year's event includes beats by DJ Godfather and DJ Chrome, as well as a fashion show featuring styles from Madison Boutique, Paper Dress Code, and Lover's Lane. And you can rest assured all that vodka-drinking is for a good cause — proceeds benefit Detroit nonprofit Back Alley Bikes.
Starts at 7:30 p.m.; Royal Oak Music Theatre; 318 W. 4th St., Royal Oak; 248-399-2980; mtvodkavodka.com; Tickets are $40, $55 for VIP; ages 21 and older only.
Jan. 20-22
Meridian Winter Blast
What was originally devised as a backdrop to help populate downtown Detroit during Super Bowl XL in 2005 has now grown into a strong annual tradition. This year features nearly 50 musical artists and including Thornetta Davis and Nina and the Buffalo Riders. Check out DJs at the brand-new Movement Stage at the Bedrock Ice Bar (a bar carved entirely out of ice). For the thrill-seekers, outdoor attractions include a 30-foot-high slide with pitch-black tubes and a 30-foot-high zipline. And yes, there will also be s'mores.
4 p.m.-11 p.m. Friday, 11 a.m.-11 p.m. Saturday, and 11 a.m.-9 p.m. Sunday; Campus Martius Park; 248-541-7550; winterblast.com; admission is $3 (or a donation of three canned goods), North American International Auto Show visitors get free same-day admission.
Jan. 20-22
Fire & Ice Festival
Get into the spirit of the season in the burbs. This annual family-friendly event features outdoor activities like dog sledding, ice skating, snowshoeing, and cross country skiing. There will also be ice sculptures, food trucks, and fireworks.
5 p.m.-9 p.m. Friday, 10 a.m.-9 p.m. Saturday, 9 a.m.-5 p.m. Sunday; E. Fourth St. and Main St., Rochester, 248-656-0060; downtownrochestermi.com; no admission.
Through Jan. 22
North American International Auto Show
Now that the international automotive media swarm is gone, Detroit's annual auto show opens to the public. This year's offerings were reportedly quite tame, but you never know what kinds of far-out concept cars you'll stumble on.
Doors open at 9 a.m. daily; 1 Washington Blvd., Detroit; naias.com; for tickets call 248-283-5173; tickets are adults 13 and older are $13, seniors 65 and older are $7, and children 12 to 7 are $7 and children 6 and younger are free.
Jan. 25-30
Zehnder's Snowfest
Don your favorite long johns, and double up on the socks if you plan on spending the day perusing downtown Frankenmuth during their annual winter festival — the whole thing takes place outside. The family-friendly festival will host the World Class Double & Single Block Snow Sculpting Championships and the State of Michigan Snow Sculpting Championships, a 100-block ice carving exhibition, a petting zoo, fireworks, and children's activities. But, let's be honest, the whole thing is just an excuse to polish off a four-course chicken dinner — whether it's a Zehnders (or their competitor).
730 S. Main St., Frankenmuth; 800-863-7999, ext. 450; see zehnders.com for full activity lists and prices.
Jan. 27-28
Ann Arbor Folk Festival
With names like Jenny Lewis, Kacey Musgraves, Jenny Lewis, Indigo Girls, Over the Rhine, Valerie June, Rainbow Kitten Surprise, Zach Heckendorf, and Margo Price stacking the lineup, we're sure this annual fundraiser for the Ark is going to be a success. Now in its 40th year, the festival seeks to blend new acts with well-established and much-beloved artists (and they're doing a great job). This two-night festival will give you an opportunity to support not only a great venue, but amazing artists as well.
Doors open at 6 p.m., show starts at 6:30 p.m.; 316 S. Main St., Ann Arbor; theark.org; 734-761-1800; tickets are $37.50-$200 for one night; $67.50-$360 for two-night series.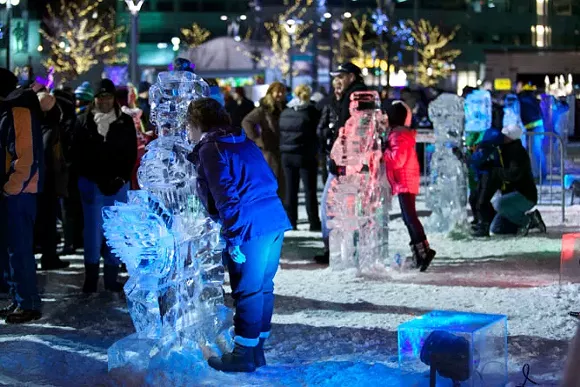 Sno*Drift Rally
Jan. 27-28
For two days at the end of January, the closed county roads of Montmorency County become a race track for two- and four-wheeled production line cars. You'll see tricked-out Focuses, GTIs, and Jettas speeding down snowy roads in timed stages.
See sno-drift.org for more info.
Feb. 10-12, 17-18
The Dirty Show
Now in its 18th year, Jerry Vile's annual erotic art exhibition is all grown up. While you'll find all of the hallmarks of recent Dirty Shows — erotic artwork in every medium, burlesque shows, spanking booths, bondage demonstrations, go-go dancers, and more — this year's show features renowned guest artist David Černý. The Czech sculptor is known for creating daring and provocative installation work — like the time he painted Prague's "Monument to Soviet Tank Crews" pink, which earned him time in the slammer and ignited protests. What will he bring to Vile's Dirty Show? We'll have to wait and see.
Russell Industrial Center, 1600 Clay St., Detroit; dirtydetroit.com; tickets are $30.
Feb. 11
Cupid's Undie Run
Strip down to your briefs and your bras and brave the February cold — it's all for a good cause. Cupid's Undie Run is a mile-ish run that seeks to raise money and awareness for the Children's Tumor Foundation. The whole thing starts with a party inside the Fillmore, where you can sip some liquid courage before dashing around downtown Detroit dressed like Cupid. There's an entry fee, but participants are encouraged to raise money for their run. Donations between $500 and $1,000 will be matched by noted local billionaire Dan Gilbert.
Starts at noon; The Fillmore, 2115 Woodward Ave., Detroit; cupidsundierun.com; registration fee is $45-$55.
Feb. 11
Polar Plunge
Take a dip into icy waters (OK, it's just a kiddie pool on Cheli's patio, but you get the idea) and help raise money and awareness for the Special Olympics. (This is one of 25 Polar Plunges in Michigan in case you'd rather do something a little more daring by jumping into a frigid Michigan waterway.) Registration starts at 9:30 a.m., and the Plunge is at 11:30 am. The After Splash Bash will take place immediately following the last plunger.
Cheli's Chili Bar, 47 E. Adams Ave., Detroit; 313-961-1700; firstgiving.com/polarplunge.
Feb. 15-19
Michigan Ice Fest
Every year, climbers from around the world attend this winter festival that takes place in the Upper Peninsula, and while there are workshops for new climbers this sport is not suitable for novice climbers — it's pretty extreme. The five-day festival plays host to featured presenters and celebrity athletes as well as a full schedule of demonstrations and workshops.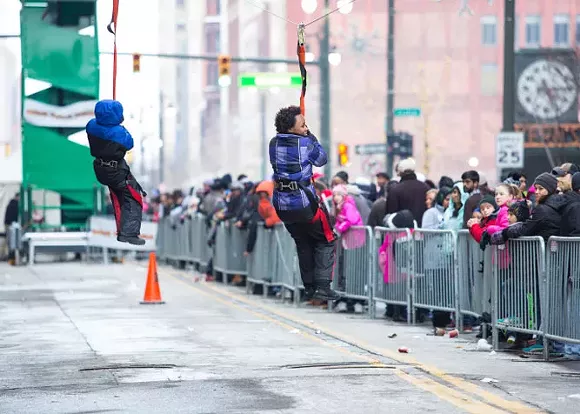 Feb. 24-26
Autorama
In stark contrast to the NAIS, Autorama celebrates the best of hot rods and custom cars since 1953. As in past years, custom builders compete for the coveted Don Ridler Memorial Trophy. Other happenings include a pin-up beauty contest, a "Dancing With the Cars" sock hop, live music, a Toy-a-Rama collectibles exhibition, and more. Even if you're not a gearhead, you can't deny these are beautiful machines.
Noon-10 p.m. Friday, 9 a.m.-10 p.m. Saturday, and 10 a.m.-7 p.m. Sunday; Cobo Center, 1 Washington Blvd., Detroit; 248-373-1700; autorama.com; $20 general admission.
Feb. 25
Paczki Run
Before stuffing your face with those mega-fattening but oh-so-delicious paczki and washing them down with some blackberry brandy, we recommend doing something that will leave you feeling a little less guilt the next morning. The annual Paczki Run is a 5K put on by Tour de Troit in an effort to showcase the city of Hamtramck and its stunning ability to showcase "the world in 2 square miles."
See tour-de-troit.org/paczkirun for registration information.
Feb. 28
Paczki Day
Outside of metro Detroit, Paczki Day is simply known as Fat Tuesday — a religious day of feasting that comes before the 40-day fast of the Lenten season. Here, it's a day to eat a pastry (or two, or...) that's packed with more calories than a day's worth of food. Many of us will visit a Hamtramck bakery to get something a little more authentic, but even grocery stores like Kroger will have them in stock.
March 21-26
Ann Arbor Film Festival
For the last 55 years, the Ann Arbor Film Festival has been showcasing independent film and artists. It does such a good job of selecting filmmakers to feature that it can proudly say it has been the stomping grounds of George Lucas, Andy Warhol, Gus Van Sant, and Les Blank. If you can't clear your busy schedule to make it out to the Michigan Theater during this six-day festival, a traveling production will tour the country (and other parts of Michigan) for the remainder of the year.
Runs March 21-26, at the Michigan Theater and other Ann Arbor locations; see aafilmfest.org.
March 2-5
Hamtramck Music Festival
What started as a way to fill the void left behind by Metro Times' former Blowout festival has turned into a strong tradition of its own. (Though rumor has it MT might be getting back into the music business. Stay tuned.) Like the Blowout of yore, this three-day festival packs the best local bands into a walkable footprint of Hamtramck's bars. Plus, it's for a good cause; festival proceeds go to Ben's Encore, a nonprofit that provides instruments, music lessons, and scholarships to inspired young musicians and underserved school music programs.
Performer applications just closed, so expect a lineup announcement very soon. Various venues; hamtramckmusicfestival.com; tickets TBA.
March 12
Detroit St. Patrick's Parade
Now in its 59th year, Corktown's annual celebration of its Irish heritage (OK, we're all a little Irish on St. Patrick's Day) continues with a parade, discreet public drinking, traditional music, and lots of green paraphernalia. If you've made it this far, congratulations! Spring is almost here.
Parade starts at 12:30 p.m. Sunday, March 13, and runs along Michigan Avenue between Sixth and 14th streets, Detroit; 313-475-4675; detroitstpatricksparade.com; free.