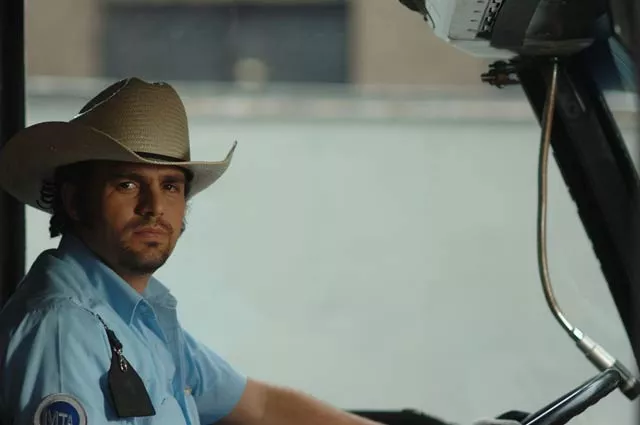 Not that the behind-the-scene details should matter, but there's been a long and tortured history to Kenneth Lonergan's second film, Margaret. Shot in 2003, scheduled for release in 2006, this ambitious, pretentious cautionary tale in artistic overreach is only now showing in an arthouse near you. In the intervening eight years, two of Margaret's producers have died, a fist-full of veteran Hollywood editors have rotated through the project, a breach-of-contract law suit was filed, Martin Scorsese got involved, and rumor has it, Matthew Broderick handed Lonergan a personal loan to finally finish the thing. I hope Broderick doesn't need that money back any time soon. Margaret is sneaking into theaters without PR or marketing.
Whatever promise the playwright-turned-filmmaker showed in You Can Count On Me, his marvelously understated and exquisitely acted debut, has been lost in his self-indulgent and self-important attempt to make the definitive post-9/11 movie.
Searching for a cowboy hat for her on an impending family vacation out West, teenager Lisa Cohen (Anna Paquin) spots one atop the head of a city bus driver (Mark Ruffalo) and runs alongside trying to find out where he got it. Distracted and flirting, the driver barrels through a red light and into a woman (Allison Janney), who ends up dying in Lisa's arms. Not wanting to get Ruffalo in trouble, Lisa lies on the police report but soon finds herself eaten up with guilt. This tests her already troubled relationship with her actress mother (Lonergan's wife J. Smith-Cameron). Soon she's seeking out family and friends in Janney's life, inviting the class stoner (Keiran Culkin) to take her virginity, coming on to her math teacher (Matt Damon), and leading a crusade to legally punish Ruffalo's character. Meanwhile mom starts dating a Columbian businessman (Jean Reno), dad (Lonergan) neglects her long-distance cries for help, we get glimpses of life inside the New York theater world, and conversations about Shakespeare, the poetry of Gerard Manley Hopkins, and American foreign policy in the Arab world all make extended appearances.
Oh, and there's no one named Margaret in the film. (It's a reference to Hopkins' Spring and Fall: To a Young Child).
Death, guilt, shame, family, and repentance arm wrestle with the solipsism of youth, as Lonergan tries to react, on both a symbolic and psychological level, to the personal and cultural after-effects of the September 11th attacks. Unfortunately, the vessel he's chosen for this examination is a privileged, half-Jewish, Upper West Side teenage girl.
To his credit, Lisa may be one of the most brutally honest and highly detailed portraits of adolescent naïveté, entitlement, and vulnerability to ever hit the screen. Filled with urges she doesn't understand, emotions she can't articulate, and experiences she can't process, Paquin's protagonist is simultaneously endearing and infuriating, bouncing from youthful earnestness to petulant selfishness without warning or regret. It's a brave and remarkable depiction of teenage volatility and, yes, I get the social metaphor, but it's undone by Lonergan's obsessive need to underline and over-write Lisa's experiences and emotions.
Never content to let the moment linger, Margaret states and restates its themes ad nauseum. Lurching from one encounter to the next, Lonergan's overstuffed narrative is filled with such emotional and melodramatic redundancy that it plays like the unedited notes of a work-shopped theatrical production. His script is hyper-articulate but rarely profound, highly detailed but dramatically unfocused. What should have been a modest but moving 90-minute movie has been dragged into a two and half hour epic of indecisive ego. And that's down from the three-plus hours that only recently hit the cutting room floor.
There are certainly instances of brilliance, moments of dialogue that sweep you into Lonergan's unwieldy world of deep thoughts and damaged personalities, performances that flirt with perfection — Janney and Jeannie Berlin are particularly excellent. But in the end it all seems so exasperatingly pointless.
Showing at the Landmark Maple Art Theatre, 4135 W. Maple Rd., Bloomfield Hills; 248-263-2111