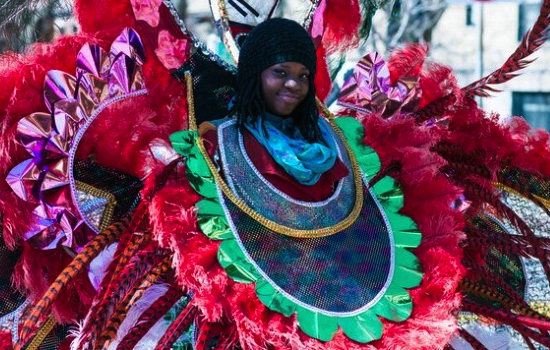 Almost as soon as it became a tradition, our local Marche du Nain Rouge became a target for not just outsiders but participants. Even a couple years ago, we ran into people who donned red, marched in the parade, merrily got shitfaced, and then still called the march "the gentrification parade." (The ultimate badge of hipdom being taking the piss out of oneself.) We actually posted a blog about it and
it got a number of interesting comments
.
Luckily for Detroit, the people running the parade may not be that "beautiful mosaic of humanity" but they're smart and funny people alert and welcoming to such criticisms. In fact, they've reached out to the animating forces behind the city's other spectacles, such as the Caribbean parade, pursuing workshops with them. Ultimately, the organizer want to help what Detroit commentators call "the neighborhoods" — the places outside Detroit's Midtown bubble — to join the fun by creating neighborhood floats.
Of course, all this takes a whole lot of money. That's why the march organizers have set up
a Patronicity page
, hoping to raise the necessary funds to ensure everybody gets to join in the fun and share their perspectives.
So if you ever made a joke or cracked wise about the mostly white revelers in the march, maybe take a moment to donate to this effort at inclusivity. It's what you wanted, right? Put your money where that mouth is.