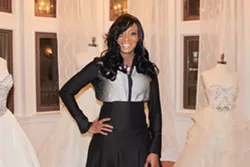 Wedding bells are ringing in the new year as Beautiful Bridal with Keasha Rigsby previewed Sunday night in the freshly renovated John N. Bagley House. The French Renaissance Revival mansion, which was constructed in 1889, will now be the home to the most sought after professional in the world of bridal wear.
Rigsby, who is a native of Brooklyn, N.Y., claimed her fame after dedicating nine years of consulting at Manhattan's prestigious Kleinfeld boutique. She also starred in TLC's hit reality show
Say Yes To The Dress
and in her own reality series
Keasha's Perfect Dress
on TV One. Now that she is gearing to open up her first flagship boutique along with her partner Vallery Hyduk, she believes that the Motor City is a magical place.
"There is no place like Detroit," says Rigsby "It's all about bringing opportunity to Detroit. I took that dive and risk, just in the nick of time. This city is hot and up and coming. It welcomed me with open arms. I don't think ever in a million years I would have found a place like this in New York, Chicago, or Los Angeles. This mansion is absolutely beautiful and stunning. It would have cost me an arm and a leg — well maybe two legs, anywhere else."
Hyduk, a native of Canada and television executive, convinced Rigsby to take a chance in the Detroit market after not having any luck in finding ideal real estate in other major cities. Once they began renovating their start-up in 2015, Rigsby and Hyduk have now since moved to Detroit along with their families. Beautiful Bridal with Keasha Rigsby is set to open up shop on Feb. 4 and will offer luxurious gowns and an elegant shopping experience for patrons. The boutique is expected to draw in not only the community but celebrity clientele as well.
Beautiful Bridal with Keasha Rigsby
will be located on 2921 E. Jefferson Ave., Detroit.