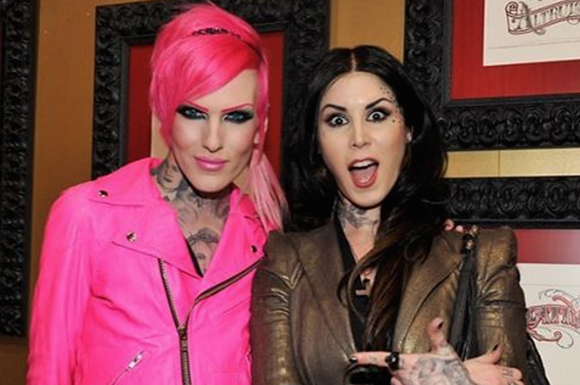 Two makeup moguls — Jeffree Star and Kat Von D — have each gone viral with videos explaining their sides of a fight they've made very public.
At the center of the debacle is Detroit tattoo artist and graphic designer B.J. Betts.
It all publicly started when
Von D posted an Instagram
disaffiliating herself with Star and his brand.
"I know that over the years, may of you were introduced to Jeffree through me, and regardless if you choose to continue to follow him or not, I just would like to disassociate myself from him and his brand from this point on," her caption read. "I plan on posting a video explanation as to why I felt compelled to make such a statement."
The video
, which she published on Tuesday, has more than four million views to date. Von D has a number of grievances with Jeffree, "including promoting drug use, racism, and bullying," she said on Instagram.
But the final straw for her, and what prompted this viral online fight, was the incident with Betts. Von D alleged that Star never paid Betts after he commissioned him to help create the logo for his cosmetic brand.
"I introduced Jeffree to BJ, and then BJ drew up his logos, and then Jeffree went forward with them," Von D said in the video. "It's the logos that you guys see now on all the caps of all of his lipsticks, and then never, never paid BJ."
Von D went on to say Star blocked Betts' number when he asked for payment.
The logo was created when the brand launched in 2014, but Von D said she just found out about this last week. When she reached out to Star for an explanation, "he basically told me to f*** off and then blocked my number," she said.
After Von D's video, there was a back and forth argument between the two on Twitter.
I never stole my logo. Where's the receipts??? Where's the lawsuit?? I created my brand in 2014. The truth is not in her video.

— Jeffree Star (@JeffreeStar) July 19, 2016
...so things are not "settled" just yet. Would it be so hard to, for once, sincerely just apologize, make things right and move on?

— Kat Von D (@thekatvond) July 19, 2016
Jeffree. Please,do yourself a favor and stop lying. BJ texted me that you reached out w a settlement proposal an hour after I posted video..

— Kat Von D (@thekatvond) July 19, 2016
Kat - incase you forgot what I wrote.... Here is a close up for everyone asking. pic.twitter.com/40UQEC2QSR

— Jeffree Star (@JeffreeStar) July 21, 2016
On Wednesday,
Star published a video
in response to Von D's. Star admitted he did consider working with Betts, but ultimately backed out because he couldn't afford him at the time.
Star pointed out he has used a star as his logo since his days as a musician in the early 2000s.
"My current manager and lawyer were already talking to his manager and lawyer," Star said. "And we're working something out because, long story short, now that my brand is successful, I wanted to take care of somebody who has worked for hire and that had helped me in the beginning and inspired something."
Betts has remained quiet throughout this ordeal, with the exception of one tweet:
The matter between myself and Jeffree Star has been amicably resolved and I will have no further comments on the matter.

— B.J. Betts (@bjbetts) July 20, 2016