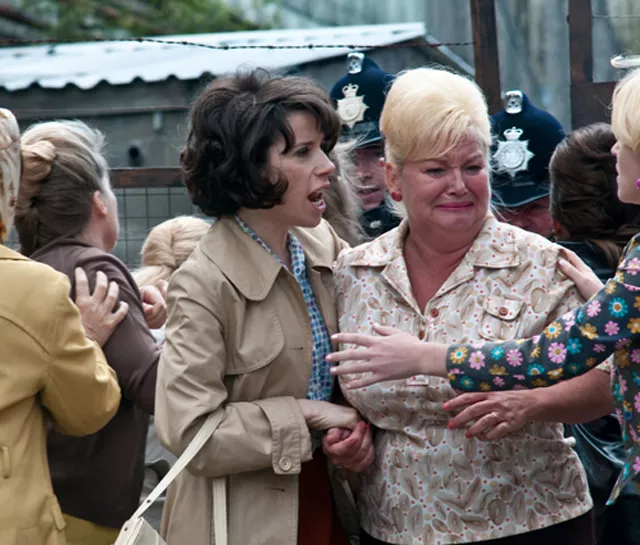 Made in Dagenham
GRADE: B
Heavy on period pieces in the best of times, there seems to be a strong backward-looking impulse in recent British film culture, a nostalgia for a time when they were merely an empire in decline.
The new cool Britannia has complex problems that make the pre-Maggie Thatcher days of decent, unionized slave wage drudgery seem bucolic. Made in Dagenham is the latest in this trend, a warm and bubbly slice of retrograde entertainment that makes a bitter struggle for equality seem as quaint as a tea cozy.
The particular sliver of history at issue here is the 1968 machinist's strike at Ford's East London Dagenham plant, where the factory's women finally rose up to demand equal pay. The ladies' jobs, machine-stitching upholstery, was no less repetitive or tiring than work done by men, yet they were still paid roughly a third of the blokes' wages. This injustice was perpetuated by a conspiracy of the company, the union and even Harold Wilson's Labour government, mostly because it was the way things had always been done. The real-life ladies get a cosmetic upgrade, and the leadership is condensed and personified by the splendid Sally Hawkins (Happy Go Lucky). Her chipper Rita O'Grady is a daffy bird content to tip a pint and shake her tail feathers to "Wooly Bully," until the sudden call to sisterhood stirs something powerful inside her. This spitfire simply will not take "no" for an answer, and, through charm, guile and force of will, she pushes the issue all the way to Parliament. Hawkins is more than a bit of all-right, she's pure bottled sunshine, and it's damn near impossible to resist her appeal. She even warms the frosty reserve of Secretary of State for Employment Barbara Castle, magnificently played by Miranda Richardson. When these two fiery gals join forces to tackle the problem, the outcome is hardly in doubt.
Not that it ever was. Made in Dagenham is so well-oiled that at times feels like it was factory-assembled. Indeed it is sturdily built, with every cog in place, including the rumpled shop steward, played by the irascibly lovable Bob Hoskins. The film is so entertaining and exuberant, we can overlook the stiff direction.
It is intriguing to ponder what a bolder director, such as Michael Winterbottom or Ken Loach, might have made of the material, rather than the steady, unspectacular hand of Nigel Cole, who steered the cheeky Calendar Girls to gentle waters. The pleasant soundtrack is stuffed with oldies radio comfort food, from the likes of Lulu, Mama Cass, and Spanky and Our Gang. These tunes create a peaceful, easy feeling, but its all a bit much when Cole criminally abuses Desmond Dekker's "You Can Get It If You Really Want" to make a far too obvious point. This kind of on-the-nose gesture blunts the impact of Made in Dagenham, an enjoyable trifle that could have amounted to something heartier.
Showing at the Landmark Maple Theatre, 4135 W. Maple Rd., Bloomfield Hills; 248-263-2111.