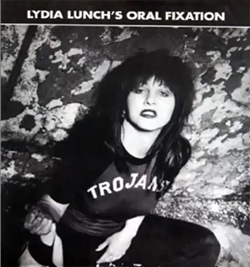 Lately, I've been writing a number of blogs noting anniversaries of shows people can't forget. Readers responded with their own memories to
a blog marking 30 years since WrestleMania III at the Pontiac Silverdome
, or
another blog marking 40 years since KISS appeared at Olympia Stadium
.
But the other day I was stopped cold by a show I absolutely could not remember. When a friend brought it to my attention, I couldn't believe it had even taken place. Lydia Lunch had been at the Detroit Institute of Arts on a Sunday afternoon 30 years ago? "Huh?" Where was I on Jan. 23, 1988? Conceivably, I was somewhere in metro Detroit, but obviously not at the museum.
My first thought was, "Was the Detroit Institute of Arts that cool or that desperate?" Though most of my brain cells are probably dead, I do seem to recall that, even in 1988, the DIA still had a squeaky-clean sheen to it, in part thanks to
that goofy 1976 commercial
that took its musical cue from
Damn Yankees
. Institutionally, I remember it appealing to suburban families, women with expensive handbags, or film snobs who wanted to see restored prints of
Thief of Baghdad
or art-house shit like
Wings of Desire
on the big screen.
Never would I have imagined that this mausoleum of culture would have Lydia Lunch doing spoken word in 1988. You'd think it would be Pearl Clutching Central in those days. And yet, the recording of this performance was later released as the
Oral Fixation
EP, with the subtitle proving that it took place at the DIA. (According to a friend who was there, it all took place in some lecture room in the basement, showing that somebody had the good sense to find an out-of-the-way setting for a diatribe about ripping boring Middle American, middle-class life out by the roots.)
It's a great performance. It's kind of like
some Patti Smith stuff
, without the working-class consciousness, and with the foul mouth turned up to 11. Sometimes, the freestyling, free-associating Lunch sounds more like a female version of Wooba Gooba with the Green Teeth. Yeah, there's a lot of shock value and her performance is that of a type, not a deep character. But for the time period, it cuts and sure sounds fresh. This was years before anybody growled about "riot grrrls." This happened months before any "slam" ever took place at the Nuyorican Poet's Cafe. This was before a blood-soaked Diamanda Galás stripped to the waist and shrieked at terrified spectators at a New York cathedral. This happened at a time when "cool cat" poets at the Michigan Gallery still teased out the end of each line of verse like it was 1961.
For the most part, Lunch reads her own work, with very few references to the city she's visiting. (One exception: "I saw so many fucking burnt buildings on the way over here today I thought there was a war going on.") It sounds like she had a good audience that understood where she was coming from, with laughter, chuckling, and a sympathetic heckler or two. They were probably the same people who would have seen Henry Rollins do his tedious readings, or the half-dozen people in Detroit who'd seen
You Killed Me First
or
Submit to me Now
. Geez, maybe even one or two had tattoos.
And another thing: My how that woman could swear! Even today, you see essays about
misconceptions about women who utter the occasional swear word
. But Lydia Lunch did so much more with swearing. She wove vulgarity, obscenity, and profanity into perfectly expressive and syntactically correct sentences. She ranted about buttfucking, piss and pus and come and blood, dead babies, shopping mall murders, crumbling cities. Her anger had appropriate targets. She'd lampoon everything from macho male chauvinism to racism to the daily grind of American life.
And yet she never took herself too seriously. She'd turn right back around and make fun of herself, joking about audience members who'd "pay three bucks to hear some fuckin' bitch on the rag who sounds exactly like my fuckin' mother, can you believe it?"
At her very best, she took aim at stuff that deserved her total teardown, attacking the promise of middle-class life: "The reality that every stinking, boring, useless, unnecessary day of the rest of your miserable, goddamn, useless, stupid, and pathetic life is going to be spent struggling to survive and afford that rotten, useless, no-good-for-nothing next day, to be able to afford the rent, the gas bill, the phone bills, the speeding tickets, to live by the rules."
For Lunch and her clutch of fans in a Detroit basement in 1988, that was clearly the most terrifying prospect of all.