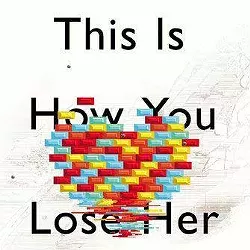 This Is How You Lose Her
by Junot Díaz
Riverhead, $26.95, 224 pp.
Has love ever been examined quite like this?
The ugly. The pretty. The sexual. Maternal love. Sibling love. They're explored in Junot Díaz's third book, This Is How You Lose Her. It comes in at little more than 200 brisk pages and reads like a manual for the hopeless romantic.
His sophomore effort, The Brief Wondrous Life of Oscar Wao, won the National Book Critics Circle Award for best novel of 2007 and a Pulitzer Prize in 2008. And for good reason: It is a book crammed with footnotes, parenthetical asides, comic book and sci-fi references, touching on the Dominican immigrant experience, and at its center there's Wao, a "Ghetto Nerd" whose penchant for loneliness and heartbreak gives the book its tragic edge. And while readers mourn Oscar's loss when they finish The Brief Wondrous Life, they'll be happy to hear more from Junior. Díaz's literary alter ego and the novel's narrator is back as a major player — pun intended — in six of the nine stories in This Is How You Lose Her.
How You Lose Her shares the structure of Díaz's debut, Drown (1996) — a cycle of connected stories that has the forward momentum of a novel without the constraints of a linear plot. Moreover, this new book flaunts the maturity of The Brief Wondrous Life of Oscar Wao. In many ways, Díaz is a literary Stan Lee; his Dominican Republic transplants are as linked as the superheroes of Marvel's Manhattan. Cameo appearances. Shifting camera angles. Multiple viewpoints. Recurring characters.
Taken as a whole, Díaz's work is a master class in contemporary fiction. But, stylistic pyrotechnics aside, Díaz is actually one of sharpest purveyors of the immigrant experience, the experience of love, and especially the intersection of the two. His cast of characters from the D.R. are transplanted to places such as New Jersey, New York and Boston, all full of optimism, which seems to be a cornerstone of immigrant love. That dreamy quality that shapes the immigrant experience spills over into the many relationships featured in the book. Everyone hopes for the best, even when there's little chance of a happy ending.
Junior sets the book's tone in "The Sun, the Moon, the Stars," opening with: "I'm not a bad guy. ... I'm like everybody else: weak, full of mistakes, but basically good." And we believe him, though he may be one of the most masochistic protagonists in literary history. In story after story, his "mistakes" trip him up.
"Nilda," "Alma," "Miss Lora," "Flaca" and "The Pura Principle" have a similar theme as we watch, time and again, the failings of a Dominican male in matters of the heart. Junior's biggest obstacle is in his quest for something better, which almost always leads to disaster. He sets the cadence of his own emotional demise by being a restless romantic. Even his brother, Rafa, successful with the ladies physically, lacks a deeper level of commitment, which he discovers, unfortunately, only after a major illness befalls him.
In "Alma," Junior has found a kind of satisfaction with a girlfriend "who has a long tender horse neck and a big Dominican ass that seems to exist in a fourth dimension beyond jeans." She's a Mason Gross student, loves comic books, paints, and we're told she's more adventurous in bed than Junior's ever experienced, yet, he cheats on her. The whole sordid affair is recorded in his journal, which of course, she finds. He explains it away as part of a novel he's working on. Naturally, she doesn't buy it, and the story ends with the words: "This is how you lose her." It's more than just the title of the book, it's the shared chorus of these flawed love songs and the minor progression they share. It becomes very clear that these stories are about fumbling (in the dark and the light), regrets, best intensions gone awry, and the complexities of human nature.
"Otravida, Otravez," a standalone story narrated by Yasmin, a Dominican woman who washes linen in a hospital, is an oddity in this collection, an intermission of sorts. Rarely does Díaz ever write from a female POV, but this story works, due perhaps to the stark contrast against the other entries.
"Invierno" is one of the few glimpses of Junior and his brother Rafa's father. This takes us all the way back to the move from the Dominican Republic to Jersey, and gives some insight into the breakdown of his parents' marriage.
This Is How You Lose Her is a book that talks to you (many are narrated in the second person), and you may even talk back, as the characters (Junior especially) do things that are seemingly so counter to self-preservation.
And there are touching moments — moments that break your heart. In one story, a friend of Junior's is convinced that an old girlfriend in the D.R. is the mother of his only son. He believes it in his heart despite Junior's tough words of wisdom. He sees a genetic connection where there isn't one, not even in the photos he proudly shows off.
Questionable paternity shows up in that story, and again, in others, deepening our understanding of these characters. There's more than the sexual conquest at stake, there's a very real need for Junior, his brother, and his friends to reluctantly face and then bravely embrace the world of fatherhood.
By the time we reach the final story, "The Cheater's Guide to Love," Díaz has taken us on an exhaustive journey. Dust yourself off and try again, and again, this book says.
Wherever you are in relation to the ocean of love, whether spectator on the beach, cresting the top of the waves, sinking deep without a life preserver — maybe far inland and merely dreaming — you can read This Is How You Lose Her as a set of cautionary tales of love's endless iterations.
Cornelius A. Fortune is a freelance journalist who also writes science fiction and graphic novels. Send comments to [email protected]