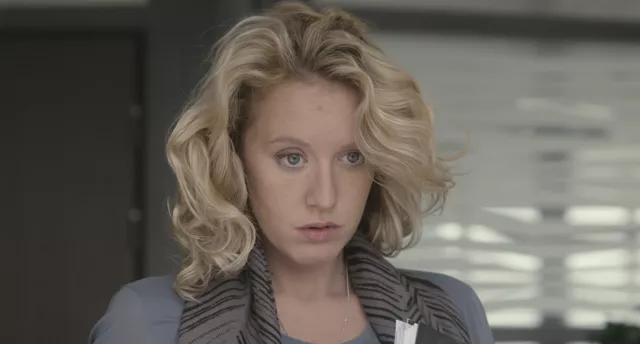 It's been a while since a good, juicy cat fight has hit the big screen. Which is why I had high hopes for Alain Corneau's psychological thriller Love Crime. Ludivine Sagnier and Kristin Scott Thomas square off in this French import about naked ambition and back-stabbing (figuratively and literally) office politics. Unfortunately, its mean-girl-in-business-attire setup promises much more than it can deliver.
What kicks off as a tale of corporate rivalry and personal power plays ends up becoming an overly convoluted revenge drama that works way too hard and takes way too long to deliver an ending you can see coming from a mile away. Love Crime (a particularly poor title) is less of a whodunnit and more of a how-is-she-going-to-get-away-with-it.
Christine (Thomas) is a charismatic and icy senior executive at a multinational firm. Shrewd and manipulative, she gets close to her overachieving protégé Isabelle (Sagnier) by offering friendship, mentorship and even sexual interest. What she's really doing, however, is stealing the young woman's ideas and claiming them for her own. Eventually Isabelle catches on (Christine doesn't hide her exploitation so much as explain it away) and decides to seize a business opportunity for herself. Bad idea. Christine initiates a sadistic campaign of humiliation against her, forcing the junior exec to concoct a ridiculously elaborate act of vengeance.
Love Crime wants to be Hitchcockian ... (or, maybe we should invoke a French director, how about Claude Chabrol?) but is too detached and contrived to elicit empathy for its protagonist and too cold and mechanical to create suspense. Corneau and Nathalie Carter's talky script is so fussily controlled, strains so hard to wedge its tiresome plot elements into place, that the film feels as sterile and claustrophobic as its upscale surroundings.
Thomas does casual malevolence with impish ease but her character is a cypher, a plot device that relies on the actress' ability to project human motives to a cartoonishly villainous boss. Sagnier, on the other hand, is forced to morph from self-doubting naïf and lapdog into cunning double-crosser then onto pill-popping neurotic and back to conniving mastermind. Little thought is given to how these extremes add up to a complete human being. The actress does a fine job, but her character is a cheat, yet another cog in Corneau's contrived Rube Goldberg device.
Love Crime isn't a bad film per se. It's too slick and well-acted, with real instances of tension, to be dismissed. But as Corneau's swan song (he died soon after completing the film) it's a disappointing cap to a respectable career directing French thrillers.
Opens Friday, Oct. 28, at the Landmark Maple Art Theatre, 4135 W. Maple Rd., Bloomfield Hills; 248-263-2111.