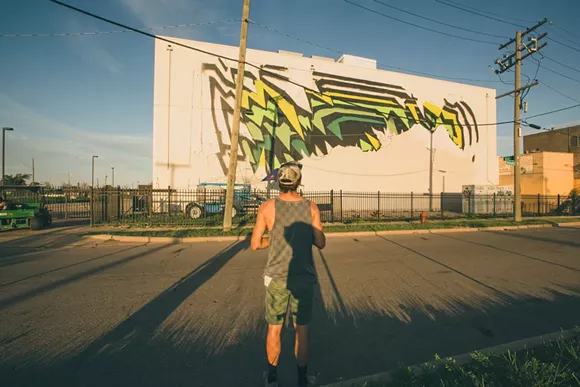 Integrating Hart Plaza's pyramid-shaped amphitheater into the layout of Movement Electronic Music Festival has provided a bit of a logistical challenge in the past. While the top of the pyramid provides an awesome view of Movement's riverfront stage, the structure's original recessed bandshell design is underutilized — too small to host its own performance, it's typically more of a place for festival-goers to chill out and take a break from dancing.
For the past two years, the festival has teamed up with Eastern Market's 1xRun for an artist-in-residence program to liven up the space. Last year, an Italian artist known as 2501 created a psychedelic black-and-white design while onlookers watched. This year continues the tradition of hiring an artist with a numerical name with the Poland-born, Germany-based 1010 ("tenten"), a street artist known for painting trompe l'oeil portal-like imagery on building walls. (It's the artist's second trip to Detroit: You may have noticed his work at 3554 Orleans St., painted during last year's Murals in the Market festival.)
Speaking from 1xRun's loft studio, 1010 (who keeps his real name a secret, and refuses to have his face photographed) says he is excited for the festival. He's a fan of Detroit techno, and it shows in his work — 1010's artwork creates a visual rhythm that emulates the beats and textures of electronic music.
Despite the fact that he lived in Germany when Detroit techno hit there in the early 1990s, 1010 wasn't a fan then. Instead, he was into hip-hop, "which basically brought me to graffiti, so that was good," he says. "Maybe it's better this way."
1010 says he started creating graffiti when he was 13. "I was just painting characters all the time, and backgrounds, until it got boring," he says. But Germany's tradition of precision, he says, influenced even the graffiti art world, and it provided a chance to hone his skills and handicraft.
His world changed when street artists like Banksy cropped up and opened his mind to what street art could be. "They made really cool stuff with just minimal colors," he says.
Thus, his persona 1010 was born.
"When I had this breakup with graffiti and started doing street art, I basically wanted to, like, leave all the cliches from the graffiti part and have no name," he says. "1010" is a reference to binary code: "Like 1, 0 — on, off."
It's a reflection of his philosophies about art, which he sprinkles throughout our conversation and sound like they could be drawn from Brian Eno's Oblique Strategies card deck. "If you want to experience something new, just try to do the opposite of what you're doing before," he says. "Just try it. Usually there will be something relevant."
1010 says he sees similar wave-like patterns everywhere. For example, he sees a current oscillation in underground graffiti and mainstream street art. "Graffiti gets more interesting now, because street art blew up so much, so now it's these big murals, and that's where the focus is on," he says.
The result is that graffiti culture is getting more artistic. "People just don't give a damn. So it's more arty now, it's super loose," he says. "They don't care about the style so much anymore. But it's nice to look at. It's fun to see, like somebody went out there, just super fun, and didn't care about anything."
It's the same with the Motor City, which he says is why he's drawn to it. "Detroit's fucked up, but I think it's rising again," he says. "This whole place, Detroit, is this special situation. I just see so much opportunity. And so much stuff happening. It's very creative, people are really using it."
For Movement, 1010 says he will paint the pyramid amphitheater installation ahead of time on a vinyl canvas: By the time the festival starts, it will be completed. The plan is to use video mapping projection technology to make the design appear to come alive at night, so the resting festival-goers will have something to engage with that relates to the music. Concurrently, 1xRun's Inner State Gallery will host an exhibition of his work titled Fields that will also have an opening on Friday.
Like many electronic musicians, 1010 says his process is a mix of digital and analogue methods. He creates a sketch using Adobe Illustrator software so he can quickly manipulate different layers and color patterns. But then he says he simply freehands the design on the wall.
It's a method that works well for 1010's madness. "You do the fun part in the beginning, you map everything down, and then you can go party and the next day be like a zombie or a robot," he says.
"I try to be lazy," he adds with a laugh. "My mom always told me you have to be smart if you want to be lazy."
Fields opens starting at 7 p.m. on Friday, May 26 at Inner State Gallery, 1410 Gratiot Ave., Detroit; 313-744-6505; innerstategallery.com; free.