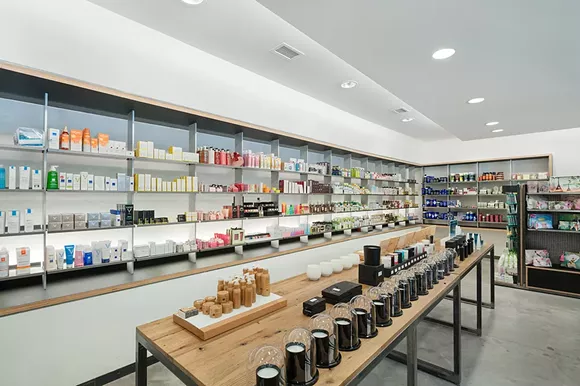 For centuries, humans have attempted, mostly in vain, to formulate products to augment their appearance. And historically speaking, the desperate clutching at youth and beauty has not always proved effective — or even safe. They used to put lead in makeup, after all.
Science has delivered us from many of those noisome practices and toxic products, yet it has failed to produce the ever-coveted fountain of youth. Thus a need for anti-aging vendibles still thrives, and Mills Pharmacy and Apothecary is here to fill the void.
Born in Birmingham, Mills has long served the community as a pharmacy much like any CVS or Walgreens — they fill prescriptions and sell essential personal care items like Tums and aspirin. But walk into the recently renovated shop on West Maple Road and you feel light-years away from your corner drugstore.
As shops like Ulta and Sephora have proven, a sleek, bright environment stocked with opulent products might as well be catnip for beauty-seekers. Mills offers a similar aesthetic, but uses rustic elements to temper the brightness. Upon those rough-hewn wooden tables and shelves, shoppers can find soaps and creams from as far away as France and a few fragrances made right here in Detroit.
Rita Sayegh is the retail director at Mills and something about her short and sleek black bob tells me she knows a thing or two about high quality beauty products. During a recent meeting, Sayegh proved knowledgeable about each of the many products Mills carries, not all of which are as expensive as you might think.
Mills supports local businesses and they carry products from Michigan-based fragrance companies Kerosene and Sfumato, as well as the seemingly ubiquitous Beard Balm and some beard combs from Burton & Levy. But, Sayegh won't carry any line just because it's made in Michigan. She's much more discerning than that.
Sayegh says a product must meet a certain level of quality before she'll consider stocking it in the store. Unfortunately, not all new local businesses are able to create products that meet that standard, so you're more likely to find established brands like Avène, Bioderma, and Korres than a hand cream produced by an independent maker.
Knowing you're walking into a shop that's stocked with unique and potent products can be intimidating for those who don't know exactly what they're looking for, so Sayegh works with customers to make sure they're getting a product that will benefit them.
Because products are not returnable, she'll typically send a shopper home with a sample before encouraging them to invest in the whole bottle. In fact, I left Mills with a brown bag filled with samples of pore-shrinking creams, redness-reducing lotions, micellar water, and a collection of sunscreens in varying SPFs. Getting to test a product, especially when you're not exactly sure what you're in the market far, can save you a ton of dough.
Mills has been operating their Birmingham location since 1946, but earlier this year they expanded their operations to include a long-term pop-up in Midtown. The Cass Avenue auxiliary location offers similar products with a slightly smaller selection, and will be open until at least the end of the year.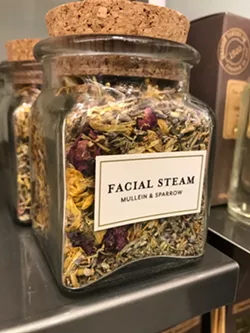 Retail Detail:
Mullein & Sparrow Facial Steam, $28
This little bottle may be cute, but it's also packed with an organic blend of herbs and flowers that, when added to a steaming bowl of water, can help detoxify your skin. Lavender, chamomile, rose, fennel, licorice root, rosemary, comfrey, and chickweed help to calm inflammation and rejuvenate skin, which can take a beating during summertime. The colorful bottle is a perfect gift item, whether it's for your mom, best girlfriend, or yourself.