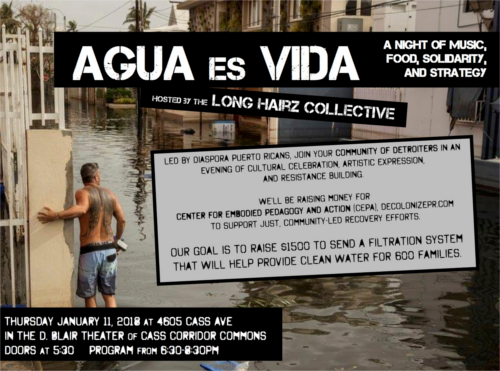 Detroit-area Puerto Ricans will join forces tonight with the Long Hairz Collective for "Detroit-Puerto Rico Solidaridad" — an evening of "cultural celebration, artistic expression, and resistance building and fundraising" to support a drive for water filtration for the people of Puerto Rico still suffering from Hurricane Maria.
The island's lack of power, water, food, and medical attention has largely disappeared from the headlines but the statistics remain alarming. As of Dec. 30, three and a half months after a hurricane devastated the island's infrastructure,
almost half of the island's residents were still without power
.
The Center for Embodied Pedagogy and Action (CEPA), hopes to do what it can to help. It's throwing a party to raise funds and awareness tomorrow night, Thursday, Jan. 11, inviting local artists, activists, and supporters. Entertainment will include Adela Nieves, Ozzie Rivera, and BombaRica, Will See & Bryce Detroit, The Long Hairz Collective featuring Annie Humphrey (from Minnesota), Peace Be Free, Joe Reilly, Allison Radell, and Jamie Rusling, as well as food from Judi Hernandez of El Caribeño restaurant.
The goal is to raise $1,500 to send a water filtration system to Puerto Rico that will help provide water for 600 families on the island.
Those who can't make the show can
donate online
. Want to see the water filtration system? Click
here
.
The fun starts at 5:30 p.m. Jan. 11, at Cass Corridor Commons, 4605 Cass Ave., Detroit.