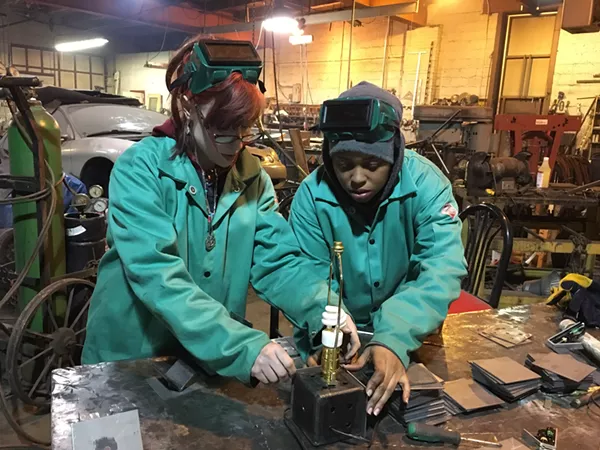 Samantha Farr was studying city planning when she first began welding. Her school had a lab for architecture students to manipulate materials in order to better understand them. She was curious about welding so she asked if she could use the lab. They said yes and the rest changed the course of Farr's post-college life.
Farr completed her degree in city planning and now runs a planning and economic firm. But, she's also been focused on a project to train unemployed and underemployed women to weld. Aptly titled Women Who Weld, the project has already graduated eight women, despite many obstacles including access to funding, equipment, and space.
Now Farr is working on her third workshop, which will take place in June at TechShop Detroit located in Allen Park. She's hoping to train as many as 12 women during the six-week program.
But training is expensive and the women Farr is hoping to reach don't have access to the kind of capital it requires.
The program costs $5,500, which is a large sum for anyone to front, let alone an unemployed or underemployed single mother living in a shelter with her children (Farr's target demographic). So, she's looking for public and private funding to ensure each woman can complete the program.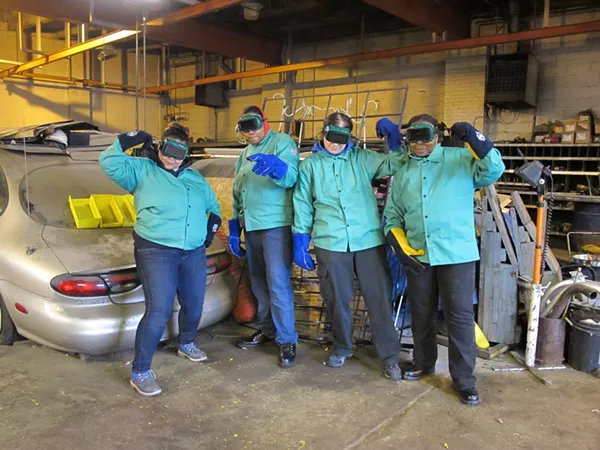 The program is unique for many reasons. First and most obvious, it trains women in a largely male dominate field. Secondly, it offers resume prep, childcare, transportation, and lunch to students. Thirdly, aside from a single UAW program, it's the only six-week program that ensures students will leave with the skills to secure an entry level position.
According to Farr, other skilled trade education options include a year-and-a-half-long course at community college or an apprenticeship that can last as long as four years, but she says they're longer than necessary for someone who needs to learn enough to simply hit the ground running. The Women Who Weld program promises students will leave with enough skills to get a foot in the door, after which they can learn on the job.
"The program teaches participants how to weld using metal inert gas welding, and how to drill, measure, and cut metal. Participants receive training for the American Welding Society Certified Welding test," Farr says. ""You could come out of the program and get a $14 an hour job."
And there is even more to Farr's plan. In the future, she hopes to partner with developers in Detroit who would sell vacant homes to Women Who Weld graduates on a rent-to-own basis.
But none of this will happen if Farr can't continue to secure the funding needed to pay for the program.
"I really need a sustainable source of funding. Having Ford or GM as a partner would be ideal," Farr says. "I'm trying to be flexible with the program so that I can train as many women as possible."
Running Women Who Weld as a nonprofit, Farr says she's gone after both public and private money, but says its been "really difficult to secure funding" for the project. The first two projects came together with the help of a mini grant of just $2,000 and the help of two privately owned welding shops in Detroit that allowed Farr to use their space and equipment.
But that set up is less than ideal and Farr found a great deal at TechShop Detroit to allow her to train more women. The third program takes place at the Allen Park workshop and fabrication studio from June 4 through July, but that will not be the program's permanent home.
With longterm goals that include operating her own shop and creating an international network of women welders, Farr has closer obstacles to tackle at the moment — funding. She's already finished a Facebook-based fundraising campaign, but says she plans to run a larger crowdfunding campaign to help cover costs.