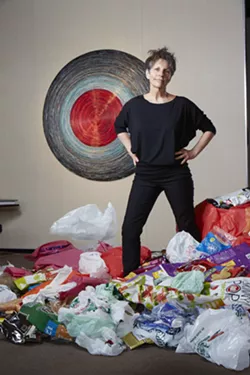 Mary Adkisson
is a Bloomfield Township-based artist who uses plastic bags to make beautiful, circular works of art. Cutting up the plastic into colorful strips, Adkisson winds them around each other, creating visually striking pieces that also draw attention to waste and the need for recycling.
Now, the artist is requesting the public donate discarded bags to Birmingham's Robert Kidd Gallery. Through a "Be Part of the Art" drive, the gallery is collecting bag donations through April 20.
According to a press release, those who donate will have their photo taken, with their names listed on the back of the pieces Adkisson. They will also get name-checked on Robert Kidd Gallery's website. You can drop off your old bags at the gallery, located at 107 Townsend St., Birmingham. Collection times are between 11 a.m.-9p.m. Monday-Thursday, 11a.m.-10p.m. Friday-Saturday, and noon-3p.m. on Sunday.
A reception with the artist will take place on Thursday, April 20 at the gallery.