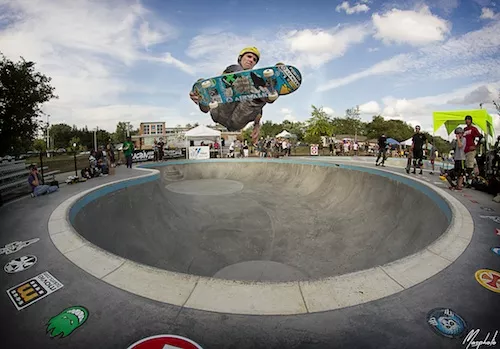 You've got to hand it to the University Musical Society: They've come up with one of the most interesting season openers in memory. They're joining forces with Friends of the Ann Arbor Skatepark to present live performance that mixes improvisational music and professional skateboarding. It's called "Falling up and getting down: A live skateboarding and music celebration."
For real? Yeah, it's for real: The Kennedy Center's artistic director of jazz, Jason Moran, and his band, the Bandwagon, will perform an inspired blend of jazz, R&B, and hip-hop, while such nationally and internationally celebrated professional skateboarders as Andy Macdonald, Ron Allen, Chuck Treece, Tom Remillard, Jordyn Barratt, and Natalie Krishna Das will skateboard to the music on the fly.
It kind of makes sense, right? As the UMS puts it, the even showcases "the art of improvisation that's prevalent in both music and skateboarding." OK, then.
But that performance is just part of the fun, which will also include skateboarding exhibitions, open skate, DJ sets by Tadd Mullinix and Alvin Hill, food trucks, vendors, raffles, a skateboard art museum and more.

Want to see this melding of a three-year-old skate park and an 138-year-old musical society? It takes place 2:30-5 p.m., Sunday, Sept. 11, at Ann Arbor Skate Park, 350 N. Maple Rd., Ann Arbor; advanced registration requested at ums.org/skatepark, no admission charge; more info at ums.org/season.