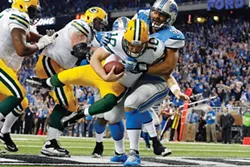 You may recall a less-than-stellar nickname earned by the Detroit Pistons team circa late '80s-early '90s : the "Bad Boys." They played hard, ferocious — and pretty dirty — defense. The one who really comes to mind from that era is Bill Laimbeer, who may have been the baddest of the bad. He had no fear and not much of a conscience when he was on the court — and he used those traits to succeed.

What made the Bad Boys so unique was that they won championships. Not once but twice ('89 and '90). If you were a Pistons fan, you loved their dirty style of play and the success that came with it. They seemed to almost epitomize the city they played for. Everybody else … well, they hated the Bad Boys, even if they respected their ability to bring home the 'W'.

Which brings us to our current topic: Does the current Detroit Lions' defensive line — Ndamukong Suh, Nick Fairley, Willie Young and Ezekiel Ansah — constitute Detroit's newest "Bad Boys"? There's no doubt that they have quite the reputation.

This has been an ongoing point of contention for a while — usually built around something stupid that Suh did during a game — but became even more relevant last week, after Green Bay Packers offensive lineman Josh Sitton made some comments during a radio interview in Milwaukee leading up the Thanksgiving Day rout that was the Lions-Packers game.

"They go after quarterbacks, their entire defense takes cheap shots all the time," Sitton said. "That's what they do. That's who they are. They're a bunch of dirtbags or scumbags. That's just how they play. That's how they're coached."

The reason the Pistons' reputation was accepted back then stemmed from their success. If they hadn't won two championships, they would've just been "those dirty players that play that way because they can't win." The Lions' defense (specifically the linemen) appears to have a similar reputation, but not similar success.

Not only did Suh claim the title of "the league's most hated player" a few years ago, he's also garnered more than his fair share of fines. And as the league has become "safer," the political way of saying softer, the Lions' d-line has built a reputation for being dirty — not in a good way, or a way that wins games — evidenced by Sitton's comments.

Although the run defense and d-line have played relatively well this season, being on the national stage on Thanksgiving Day seemed like it would be just one more way for the Lions' "Bad Boys" to do what they normally do: take stupid penalties and embarrass themselves and the team.

But they did exactly the opposite. The front four dominated the game from start to finish and without anybody getting embarrassed — well, besides Packers' quarterback Matt Flynn.

The Lions tallied seven sacks en route to allowing Green Bay a measly 126 yards of total offense. The culmination of this defensive performance came in the third quarter with the Packers backed up to their own end zone. Suh manhandled two Green Bay linemen into the backfield and gently sacked Flynn ("gently" being the key word here).

While the defensive performance was a team effort, there's no doubt the front four were the impetus behind it. It's tough to get your offense going when there are four semi-truck-sized players bamboozling their way into the thick of things on every play.

The fact remains that, unless the Lions accomplish something big, these "Bad Boys" will remain just dirty. But maybe with Suh leading the pack, they can do it this year. As all cynical Lions fans agree, they probably won't, but at 7-5 there's a glimmer of hope.

The "dirtbag" scandal got a little funnier when defensive end Willie Young tweeted, "Great performance by the scumbag unit I'd say…Lol," following the Lions' victory. It really was a fitting statement. Bill Laimbeer and the other original "Bad Boys" were a great unit — even if a lot of people probably considered them the scumbag unit. The Lions' defensive line has too many similarities to those Pistons teams to go unnoticed.