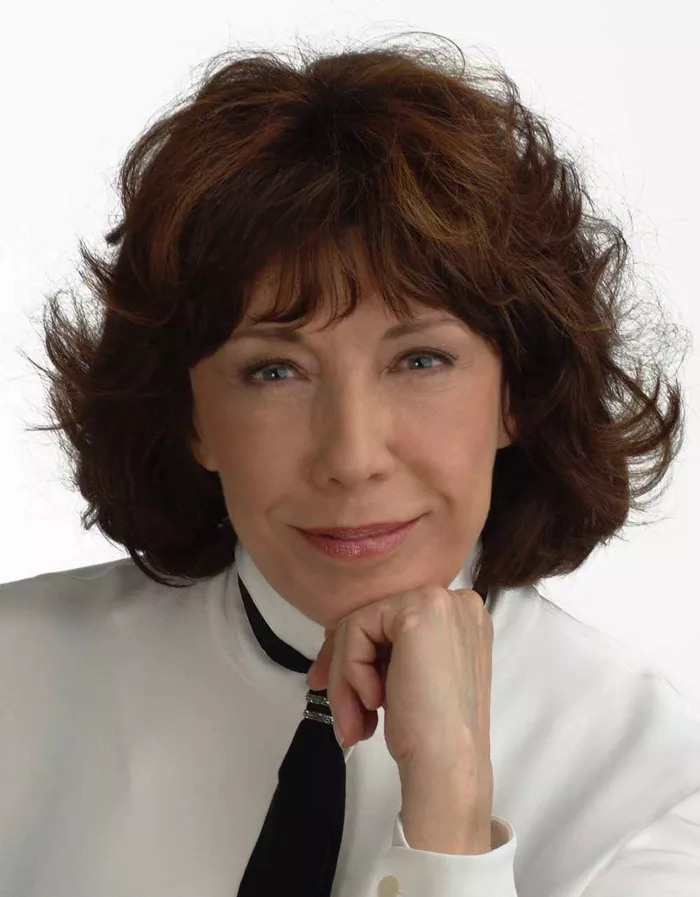 Most of you will already know that veteran comic Lily Tomlin is a Detroit native, born here in 1939. The comedian and actress was just a child when she started putting on porch performances in her apartment building, and few of the neighbors watching could have predicted the incredible career that Tomlin would go on to enjoy.
Tomlin was 19, when she moved to New York after completing her midterms. On her return, she worked at a Detroit coffee shop and started developing a set of characters that would become the anchor of her standup performances and, later, her career in television.
Nowadays, we know Tomlin as the actress from shows like The West Wing and Desperate Housewives, and movies like 9 to 5 and The Beverly Hillbillies (shiver). But for those of a particular vintage, she will always be the star of Saturday Night Live, Rowan & Martin's Laugh-In, and Lily.
She's also the archetypal Detroit woman: tough, strong, and cynical perhaps, but blessed with a wit allows her to carry to all with style and panache. She still loves the place too. "Whenever I play anywhere nearby, I always come down to Detroit and go to all my old haunts like Greektown, even though they now have a casino, a hotel and all that business," she says. "I go to the art institute and go and see my favorite painting from when I was a kid which is [Pieter] Bruegel's 'The Wedding Dance.' It still hangs there and it's a very sexy, sexual painting for a kid on a field trip. It was very titillating. The men have cod pieces that look like they have erections. Something's going on and it's unusual. I'm a kid of Detroit. I spent all my early life [there]."
She's one of us, of that there is no doubt. Even before she left for New York, she was performing at variety shows while studying at Wayne State. Plus she had other, higher placed, connections. "I did a variety show at Wayne State and I got so much attention for doing a character, I went on Ed Mckenzie, the local radio, I went on doing a take-off of a Detroit matron," she says. "My mother's maiden name was Ford, no connection. I went to high school with a woman who would later be Henry Ford's third wife and widow, Kathy. I still see her when I go to Florida."
Her characters are now Tomlin trademarks, the likes Ernestine, Edith Ann, Mrs. Judith Beasley, and the Tasteful Lady. Tomlin has always had the ability to mimic and exaggerate the oddest aspects of human behavior beautifully. She's a master of parody. She does say that the more popular characters weren't based on specific Detroiters though.
"They all come down through my consciousness," she says. "Ernestine was invented after I was living in New York. In New York, you couldn't get a phone installed or repaired, or your phone might not be working and you wouldn't even know it. We all knew that AT&T was involved in wire tapping and other activities. It was such a monopoly at that time. That's how Ernestine came about. I was doing her in my act in New York, and I never expected to be on TV."
The Tasteful Lady did partially stem from Tomlin's mother, and her mild obsession with the Ford family. "She would read about them in the society pages," she says. "I was a very blue-collar chick in inner-city Detroit. I was very conscious of the Fords, but also the inner city and the disparity. It was ripe for satire. My college show was such a hit, because it was the only topical thing in the show. Everything else was parodies of Gunsmoke, the Academy Awards or something like that. I only did it by accident because the show was one bit short. I said that I do this stuff all the time in conversation. This was 1962. I did a take-off of a Grosse Pointe matron at that time, and it was really relevant."
Tomlin speaks fondly of her hometown and with a tinge of sadness when discussing the distress that is has found itself in. She lights up when remembering her time in the local comedy clubs and coffee shops. "I came back from New York, I went just for the summer, and I didn't know what the hell I was doing," she says. "I didn't have pictures, I didn't know anything about being an actress. I came in the fall and started working at a coffee shop. I went there and started hanging out. I was there morning till night usually. It was the 1960s, so there were poetry readings, after-hours jazz, and we'd do a play in the early part of the evening. We'd do after-dinner sketches and improv, then folk singing and all that stuff. I made coffees, swept the floor, anything. Then I started doing sketches and creating characters."
It's telling that many of her memorable roles, particularly those in 9 to 5 and The West Wing, are tough-as-nails, blue-collar women with a dry wit. She says it's not deliberate, but it is a great fit. "That material might appeal to me, politically in some way," Tomlin says. "I just think characters in general are interesting to me. Where I grew up, there was an unbelievable range of people. I lived in a predominantly black neighborhood. There were poor Jews and rich Jews, poor gentiles and rich gentiles. I had a huge range of people, ethnically and economically, on my doorstep. I always thought it was a good material for a movie or a short."
In conversation, Tomlin is at her best when she's in full flow. She stops on occasion to take a breath and to ask if we're happy with the direction she's going in. We always are. Her stories of Detroit people are fascinating.
"There was a lady in my old apartment building who had decided that I was the child in the building who had the most potential to rise above my station," she says. "Those were literally her words. She was preparing me to marry well and run a big house with a staff. Every Saturday, I went downtown with her shopping, and I had to wear a hat, gloves, and carry a purse. I was learning to be a lady. Of course, it was hilarious to me. I got such a kick out of it. Here I am 8 or 9 years old. We seldom ventured out of Hudson's because everything was there, including a post office."
Apparently, the lady was a stickler for good manners. "Before we went into a tearoom or anything, we'd step into a side street, go into a doorway and blow our noses," Tomlin says. "It was such a glorious thing, when you think about it. I was the tomboy. I was a sweetie-pie in school, but when I got out I'd throw gravel off of roofs. We were juvenile delinquents without being juvenile delinquents. Mischievous, and willing to do anything. I was putting on shows at the same time, on my back porch or in a garage. I tried to get other children to be in the plays but they wouldn't so I did it by myself. One time, I roped my brother in. He's naturally funny. But he just left in the middle of a show one day, so I couldn't trust him. He was impulsive."
Tomlin recently married her longtime partner and collaborator, Jane Wagner, and with gay marriage recently legalized (sort of) in Michigan, we asked her how she was finding married life. "Very similar to unmarried life," she says. "We've been together for 43 years. It was a sweet thing. Our family was very nice. The people remaining are generous and loving. We received little family heirlooms, like a little dish that has been prized for generations."
When we talk about the fact that the gay marriage laws are still tied up knots, she simply says, "Old traditions die hard." She still keeps an eye on what's happening here though. "There are so many famous people from Detroit," she says. "You'd think with Motown alone they could stir up something for tourists. Younger people tell me how many artists are moving into Detroit. Last time I was there, there was a young guy at the hotel who was so fired up for Detroit — the opportunities. He took me on a long journey around the neighborhoods and it felt so alive. Something great has to happen. It can't get any worse. It might take a decade or two. But Detroit was such a great city."
Tomlin is in Ann Arbor this weekend, and she says that we can expect "my version of stand-up, which has always been character-driven. I often use video. I'll talk about Ann Arbor, Detroit and spaceship Earth. Being a temporary occupant of this planet."
And laughs. Plenty of laughs.
Lily Tomlin plays at 8 p.m. on Saturday, June 14, at Hill Auditorium, 825 N. University Ave., Ann Arbor; 734-764-2538; $35-$55.