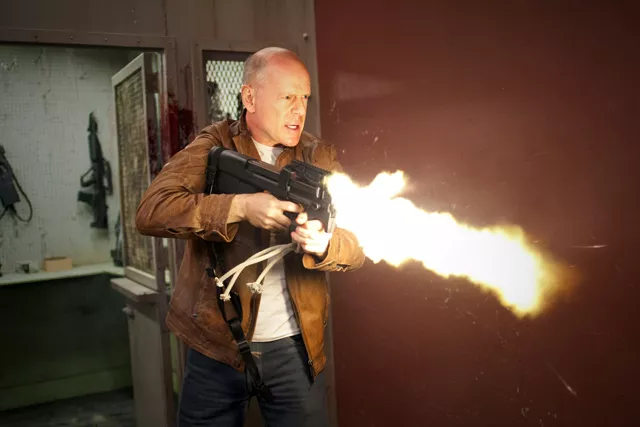 The first thing you notice is the gauntlet of smokers you must traverse each and every time you switch theaters. Now, encountering nicotine addicts desperately puffing down cancer sticks outside the cineplex is nothing new. You can go to Livonia to see that. But at the Toronto International Film Festival, which attracts industry reps, fans, and journalists from all around the globe, the smokers — particularly the European smokers — are particularly aggressive and flamboyant in their habits, sending great and constant plumes into the air. For a nonsmoker like myself, the festival becomes a challenging seven-day marathon of running to and from movie screenings while holding my breath. The damage to my lungs and death of brain cells due to oxygen deprivation is worth it. The festival is a cinephile's dream come true.
Second only to Cannes in terms of prestige and size, TIFF (as it is affectionately called by organizers) boasts more than a quarter-million attendees, 372 films from 72 countries, 146 world premieres, backroom deals (29 films sold to U.S. distributors), and more celebrities than you can shake an Oscar at. This year's fest saw everyone from Tom Hanks to Kristen Stewart to Johnny Depp (and on and on and on) at the galas, premieres and parties. It's a strange fit for this stoic Canadian metropolis, which —despite all attempts to put on a cosmopolitan face — still feels like a cleaner, quieter, quainter version of Chicago. To validate my impression of the city, a cabbie explained to me that, "Business is never as good as it is during the film festival. The only thing that comes close is the annual mining convention."
My biggest dilemma was choosing which of the hundreds of films I would see, and whether I would take advantage of the numerous afterparty invites, red carpet galas and panel discussions. Last year, sleep was sacrificed in favor of experience. This year, I opted to see as many movies as possible, relegating everything else to optional-only. That meant missing a brewpub gathering for Rob Zombie's Lords of Salem, a midnight performance by Ice-T (the hardest of my choices), and Ivan Reitman's live reading of American Beauty with Bryan Cranston (Breaking Bad) and Mad Men's Christina Hendricks. (Word is: The stars were good, everyone else was just so-so)
Most days kicked off with an 8:30 a.m. screening and finished 'round about midnight. The longest included a Midnight Madness premiere followed by a Q&A with the filmmakers and cast, and a tumble into bed somewhere north of 3 a.m. Or is that south? All I know is that the birds were starting to chirp.
So what was best at the fest? Or, at least, the best of the 29 movies I saw? On Day One I managed to catch both Ben Affleck's Argo and the time-travel thriller Looper. Both are terrific films and I'll have plenty to say about them when they open in Detroit in a couple weeks.
The People's Choice Award, a recent predictor of Best Film Oscars, went to Silver Linings Playbook from David O. Russell (The Fighter, Three Kings). Of all the movies I saw during the week, this was probably the easiest to recommend to, well, anybody. Bradley Cooper shines as a bipolar guy struggling to get back with his wife; Jennifer Lawrence proves that she can be funny, sexy and commanding all at the same time; and Robert De Niro actually delivers a flesh-and-blood performance for the first time in more than a decade. It opens in November.
Last year Sarah Polley blew me away with her sophomore effort Take This Waltz. This year she did it again. Stories We Tell is an intimate, post-modern documentary that explores the relationship between Polley's mother and father while digging into the circumstances of her birth. With courage and grace, the actor-filmmaker has fashioned a movie that confronts truth, memory and reconciliation with both artistry and intelligence. Who knows if it'll play here, but if you get the chance to see it, go.
On the indie side of things, The Sessions proved to be funny, sweet, and sexually candid. John Hawkes (Winter's Bone) plays real-life poet and journalist Mark O'Brien, who spent his adult life in an iron lung, and at 38 decided it was time to lose his virginity. William H. Macy shines as his sympathetic priest, and I actually found myself admiring a very naked Helen Hunt's performance. Listen for Oscar chatter about Hawkes' gentle yet charming portrayal.
What do you do next when you've directed one of the biggest films of all time? If you're Joss Whedon (The Avengers) you shoot a low-budget, black-and-white, contemporary adaptation of Shakespeare's Much Ado About Nothing. Light on its feet and just the right length, the film recruits veterans from Whedon's supernatural TV empire to fill the lead roles. Angel's Amy Acker and Alex Denisof shine brightest as Beatrice and Benedick.
The Australian-produced but German-language film Lore had its premiere at TIFF and though it meant missing Terrence Malick's To the Wonder, I am glad I chose to see it. It's the fall of Germany, and five children of an SS officer have been left to fend for themselves in a country ravaged by war and carved up by hostile enemies. Gorgeously shot and beautifully acted, director Cate Shortland's film provides a unique and harrowing view of World War II. Depending on this year's competition, it should secure a foreign-language Oscar berth.
And no list would be complete without the absolute worst movie I saw at TIFF. In fact, it may well be the worst film I have seen all year. Yellow, by Nick Cassavetes (The Notebook, Alpha Dog), is a shrill, unfunny and interminably self-indulgent piece of crap that drained away pieces of my soul even as I watched it. Noting that its star and co-writer, Heather Wahlquist, was unknown to me, I commented to a fellow reviewer that "this is the kind of film that gets made when you're fucking the director." Immediately after the festival said colleague e-mailed me Wahlquist's Wikipedia page along with the message: "Not sure if she's fucking him, but they are married." The couple has since separated. I blame the movie.