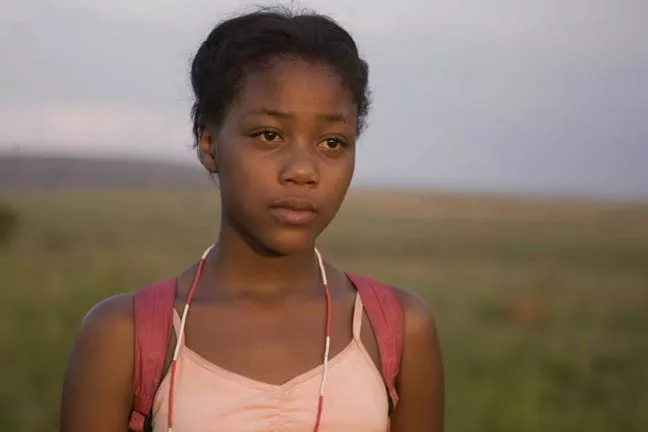 A happy childhood, at least as we imagine it in the West, is a luxury in some corners of the world, where too many children are forced out of the bubble of innocence too soon. This is a point hammered home in this noble but unremittingly bleak South African melodrama that gracefully weaves a harrowing, moving story of perseverance and thwarted love, a story that stirs the soul even if at times it feels like homework. Newcomer Khomotso Manyaka is mesmerizing as Chanda, a bright and determined South African preteen dealing with troubles and terrors far above her pay grade. She lives in a small town just outside the outer rim of the vast slums of Johannesburg, where she's struggling to hold together the tatters of her immediate family. When we meet her, Chanda is tasked with selecting a coffin for her recently deceased sister, because her shiftless parents are lost in a haze of booze, drugs, disease and despair. Both parents are HIV-positive, a medical diagnosis almost less daunting than the social stigma attached to it. The town elders shun them, castigating those infected with "the bug," as wretched sinners bound for the lake of fire. Though healthy herself, Chanda has to confront the prejudice, paranoia and outright hostility that surrounds the disease, a near crippling condition that makes her family near outcasts. There are still some kind souls willing to help, such as terse but well-intentioned neighbor lady (Harriet Manamela) who helps care for Chanda's two young siblings, and helps round up the money to send her mother off to "visit" far flung relatives, away from the intense scorn of her own village.
Starkly directed by Oliver Schmitz, Life Above All is perhaps too dependent on melodrama to really achieve sublime lift off. Many characters are underdrawn stereotypes; designed only to help underscore the climate of fear and denial surrounding the leads. Grim and punishing as the subject matter can be, Manyaka, the young actress at its bleeding heart, is enough to propel the movie forward, even when it feels determined to wallow. She, like her resourceful character, just won't stop for anything.

Showing at the Landmark Maple Art Theatre, 4135 W. Maple Rd., Bloomfield Hills; 248-263-2111.