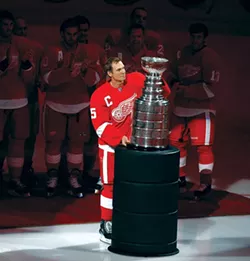 In society, the role of the professional athlete is under constant question. There is a seemingly endless line of second-guessing of their abilities to be both role models and community leaders.

It's not that surprising when you sit down to think about it. After all, the same world that gives us teary-eyed Make-A-Wish stories and salutes to soldiers has also offered up idiotic tales of party boats, gambling rings and doping scandals.

When looking at our fair city from afar, one might think that Detroit is the perfect cultural vacuum to prop up these false leaders, leaning more toward scandal than sport.

Most minds will immediately rewind to the re-election of Kwame Kilpatrick after some first-term "mishaps," and then use that to point to a litany of like-minded star athletes. Then you try to come up with a list of said athletes … and no one really comes to mind.

Over the past 30 years, Detroit has instead developed a new archetype for the ultimate leader, one based on athletes with extreme tact and class — seemingly done by design, but completed ultimately by happenstance. Each of the four major Detroit pro-sports teams has had leaders walk through their facilities featuring those essential skills.

Look no further than the latest class of inductees to the Michigan Sports Hall of Fame. Two of the city's greatest stars, Nicklas Lidström of the Detroit Red Wings and Jason Hanson of the Detroit Lions, will make their way into the HOF in February 2014.

As if done under extremely cloak-and-dagger circumstances, both athletes spent their entire careers in this city without as much as a peep of bad press.

The term "Michigan Man" is bandied about with great backslapping joy at the University of Michigan, but the concept of a person that encompasses the values of one city or place intrigues me. Is there such a thing as a "Detroit Man"? If there were (and I guess I'm attempting to make it a thing now), Lidström and Hanson would be locks for the first class ballot.

The "Detroit Man" movement all seems to have started in the hands of Steve Yzerman of the Red Wings and Barry Sanders of the Lions. Both are quiet, seemingly gentle athletes who took their field of choice with a sense of determination that was unparalleled.

Doing so at times with broken bones and knees barely hanging on by a few ligaments, those two athletes led their teams to new heights and did so with the ultimate sense of sportsmanship.
Perhaps more than any other quality embodied in Hanson, Lidström, Sanders and Yzerman, is their focused work ethic, which resembles a similar ethic in the average Detroiter. It's a life where heading into work on holidays and pulling constant double shifts is the norm — because your family needs to have food on the table.

Maybe there was never a sense of worry about mouths going hungry in their homes, but these "Detroit Men" went to work every day like their lives were on the line.

Just as Sanders and Yzerman have now given way to Hanson and Lidström, there is a new crop of young clubhouse leaders succeeding the last generation, offering up a positive face for Detroit.
In fact, the city is almost bursting at the seams with an impressive class of admirable athletes including Pavel Datsyuk, Austin Jackson, Calvin Johnson, Justin Verlander and Henrik Zetterberg.

What does it all mean? What do these "Detroit Men" do for you? The truth is that they are professional athletes and most would say their very existence does nothing for you. I would say that's not true.
If you have any sense of civic pride, you can rest easy knowing these men have spent their time exporting a piece of our story all over the world – a slice of Detroit that isn't "ruin porn," Slows Bar-B-Q or vast open fields of nothing.

They've exposed a window into the souls of the hardworking men and women of our town. These "Detroit Men" are the ultimate representation of what this city was and is capable of doing in the past, the present and for years to come.