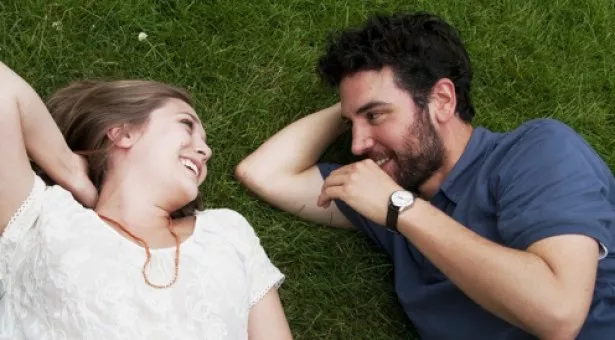 Liberal Arts| B
For some, the idea of returning to college life — when conversations bubbled up with unexpected ferocity, friendships were easily forged, arguments about books or music could go on for hours, and adult responsibility was but an abstract point on the distant horizon — is a romantic fantasy fueled by happy memories and real-world weariness. For Josh Radnor's character, Jesse Fisher, it's proof that the 35-year-old college admissions officer has yet to grow up. Emotionally and professionally stalled, his job is an undemanding dead end, and his girlfriend has left him to the shelves of books that consume his tiny New York apartment.
So when Jesse's mentor and favorite college professor, Peter Hoberg (the wonderful Richard Jenkins), asks him to speak at his retirement dinner, he jumps at the chance to spend a weekend back at his alma mater, Kenyon College, in Ohio. Surrounded by kids half his age but giddy with nostalgia, he connects with Zibby (Elizabeth Olsen), a precocious and radiant sophomore. Friendship and the hint of something more sparks, and Jesse returns to New York with a CD of Zibby's favorite classical music. This ignites an old-fashioned relationship via letters that grows increasingly intimate. Before long, Zibby is inviting Jesse back to campus to visit her. Confronted with the possibility of romance, Jesse struggles to reconcile the difference in their ages and the allure of returning to campus life, if only vicariously. Ironically, this puts him in sync with Peter, who suddenly feels lost without his job, unable to move into the next stage of his life.
Yeah, it's a coming-of-age movie of sorts, only one where the 19-year-old girl inspires the 35-year-old man to finally start acting his age. Along the way, Radnor's Jesse meets a free-spirited dropout (Zac Efron playing the wise fool) and a depressed literature student (John Magaro) who totes around David Foster Wallace's Infinite Jest. One encourages him to accept what he desires, the other forces him to behave like the adult he should be. Throw in the wonderfully acerbic Allison Janney as an English professor Jesse once admired and now beds, and you have a gentle campus comedy that seems to emulate the delicate yet chatty characters in éric Rohmer's work.
While there's much to admire about writer-director Radnor's warm and bittersweet Liberal Arts, his clunky first act and overly self-content conclusion keep it from resonating past its amiable 97-minute running time. Part of the problem is that Jesse mostly registers as a blank. He's smart and funny, somewhat elitist in his tastes, and discontent with the path his life has taken, but otherwise not very complicated. In sum, very similar to the character Radnor plays on the sitcom How I Met Your Mother. Thankfully, he never crosses into man-boy cutesiness.
As a filmmaker, however, Radnor is far more observant and tender. His dialogue pops with smart and insightful moments — a debate over the value of Stephenie Meyer's Twilight novels is particularly astute — and he handles his relationship with Zibby with extraordinary sensitivity, keeping it both real and appropriately awkward. Radnor understands why some older people are both attractive and attracted to the young. Their insights on life, their social confidence, and just the right amount of disillusionment can be seductive, catalyzing into a unique kind of chemistry, especially in an environment that encourages endless self-exploration.
Of course, it helps that Radnor has the luminous Olsen shouldering Zibby's high-minded naïveté. Her performance is marvelously naturalistic and utterly convincing ... and reflective of where Liberal Arts shines brightest. Jenkins, Janney and Efron are each similarly terrific, and Radnor is smart enough to let them steal the scenes right out from under him. Each echoes the challenges of growing up and growing old, and all make clear that there is real value in academia, where the life of the mind dares us to find a suitably human home for all its lofty ideas.
Opens Friday at Landmark Main Art Theatre, 118 N. Main, Royal Oak, 248-263-2111.