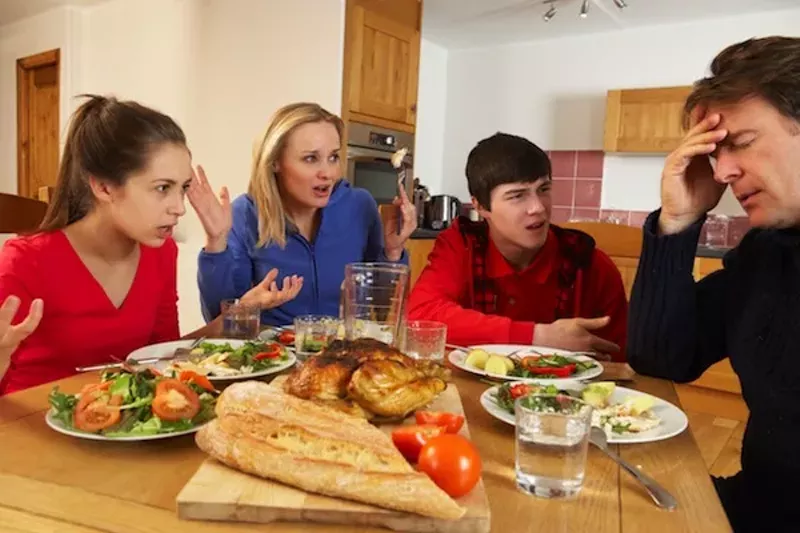 Good news, everybody!
Thanksgiving is here, and the news media couldn't be happier.
Why? Because you're going to consume!
You're going to consume food:
The average American will spend almost $100 on food and drink this weekend
. Woo-hoo! Way to prime the economic pump, people!
What else is great? You're going to spend lots of time in your car with the family! Doesn't that sound great? The American Automobile Association thinks it does, declaring: "More thankful Americans will travel to spend time with friends and family this year."
More than 50 million Americans will drive an average of 50 miles
— many will drive several times farther! The typical American's average travel bill will be $68. Isn't that awesome? Especially for you
car-averse millennials
?
If you're really lucky, you'll get to trek to two or even three family gatherings, rushing from place to place, trying to muster the appetite for another serving of cranberry sauce, your stomach groaning as it gallantly tries to digest several meals while speeding across metro Detroit.
Why do you do it? To meet up with your
casually racist relatives
who can't stop talking about minorities, of course. Or to talk to other relatives who want to know when you'll get a job, get married, have children, have more damn children, snap out of your "vegan phase," or finally move out of the city into a real community with "good schools" and "stable property values."
Chances are you used to take solace in
watching football
with a den full of men content to belch, whoop, and drink. These days, the football hardly gets going before the kiddies have commandeered the set to play Minecraft. (At least nobody can tune into Fox News!)
Perhaps you're even lucky enough to have that pyromaniac cousin who's figured out a way to use $100 in cooking oil to turn a succulent, 35-pound bird into 10 pounds of disintegrated turkey meat,
killing half the grass in the back yard in the bargain
. You lucky duck, you!
In the old days, somebody would turn on that Christmas record by the Binger and it would stay on auto-play all night. Thanks to the Internet, now your relatives can commandeer the laptop and play all your favorites, from "
Grandma Got Run Over by a Reindeer
" to the 10-hour He-Man remix of "
What's Going On?
" God bless the future!
So when you're binge-driving to your third turkey dinner this weekend, your better half in the passenger seat dwelling on all the interesting questions your family asked, and you're both still wondering if Uncle Chet really believes in
chemtrails
, take a moment to consider how grateful you should be. It may not be the warmest, most authentic, or most pleasant holiday ever, but it's one of the most profitable days of the year.
If that's not worth being thankful for, what is?