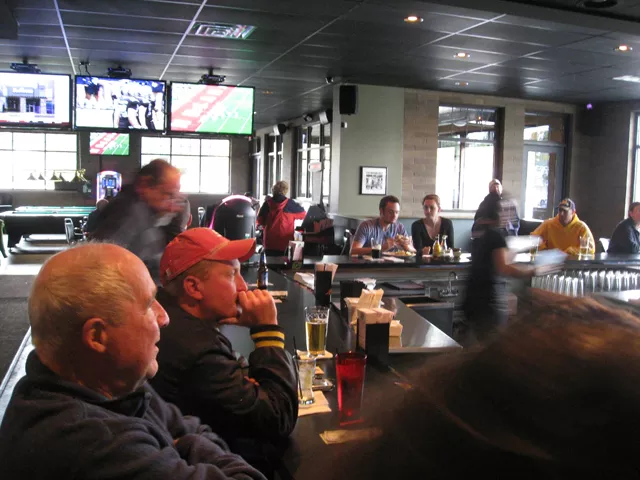 Renshaw Lounge
210 E. 14 Mile Rd., Clawson; 
248-616-3016
renshawlounge.com
Open 10 a.m.-2 p.m. Monday-Saturday 
(kitchen at 11 a.m.), noon-2 a.m. Sunday.
We're looking for this infamous Clawson dive, and I am the only one in the car who's never been there before. I ask my friend in the back seat, Michael Pelot, where it is. 
"It's a little place set far back by that Dunkin' Donuts down there. It can't be much further. There it is."
As I pull into the parking lot of the Renshaw Lounge, the car is full of confusion. 
Pelot yells, "Whoa, they totally expanded this place!"
We enter a sun-splashed, glassed-in dining area where families and older couples are noshing on sandwiches and watching flat-screen televisions. There's even a heated patio with a flat-screen just for smokers. We cruise into the back end of the bar and Pelot seems to have put it together, saying, "Yeah, I see it. This is the old bar. All that out there a new addition."
Looking at the diners, I see one of the Dead Last car club guys. He comes over to say hi.
"This place changed a lot, huh?" I ask him.
"Yeah," he says before walking back to his table. "I liked it better before. It used to be a shithole."
Little signs of the joint's unpretentious past remain; the motto on the Renshaw's pint glasses, for instance, still reads: "Warm beer, lousy food."
I look over the menu, and this is much more than pizza and chips, with three pages of food to choose from and a full-page beer menu that lists dozens of brews.
We order some pints and a large pepperoni pizza for $12.34 that comes on a stand. Big Ten Football Saturday is on three large flat-screens in front of us, tuned to the MSU-Indiana game, and one dude at the bar just can't hold in the man-cry anymore; when a State player dashes up the field, he yells, "Go-go-go-go-go-go-go!"
I had told owner Mike Lang I was coming, and he now appears, ushering me into the back. I'm understandably eager to learn how this bar was transformed from a "shithole" into what it is today.
As he relaxes in his office, he tells how the Renshaw was always famous for being a place for cheap pizza and drinks. I mention how a colleague of mine had, in fact, relayed Lang's promise that you can get drunk at the Renshaw for $10. Lang insists it's true, pointing out that he always has a 22-ounce pour of beer available for $2. "That's 110 ounces of beer for $10. If that doesn't get you drunk ..."
So how did the Renshaw change?
Lang says, "Well, we've been working on it for the last nine years, pretty much since I bought it. It's mostly been littler things, like, four years ago we renovated the bathrooms. But, yeah, after the smoking ban went into effect [in May 2010], we saw all these people coming in for the pizza who had stayed away because of the smoke. During the day, we started seeing more couples, more families, and we just decided to embrace it. Last year, we did the addition, did the facade repair, and really expanded. We went from eight to 40 tap handles."
Expanding the menu and beer choices for the growing daytime crowd was a natural choice for Lang. "People want quality. I mean, we've always had your $2 beers for the economy drinkers. They still come in. It's pretty hard to beat $2 for a 22-ounce beer. But the craft beer stuff is really hot right now. I mean, when I bought this place in 2004, we had a small dining crowd, and after 10 p.m. it would become a place for people between 21 and 30 on a weeknight. We'd tailor our specials to drinkers. That was always in the back of my mind, I mean, I was 21 once too. Hell, this place is still like that after 10 p.m. I still find about eight empty pints in the parking lot every morning. I still want to make sure I have the cheapest drink in town."
For Lang, changing the look and feel of the Renshaw was a business decision, not a personal one. Lang definitely has affection for the dark, smoky dive bars of yesteryear. He practically grew up in one:
"My father owned the Ryan Tavern on Ryan between Nine and 10 Mile in Warren," Lang says. "He bought it back in 1976. That's a tiny place. I remember being a kid and seeing people pile into that place at 7 a.m. after the third shift and saying. 'Oh, my god.' That was a real shot-and-a-beer bar. They didn't even have food, other than nuts and chips. In fact, it was just dirt floors with boards on them behind the bar, and just a little two-by-three window up in the front."
The windows were small because, though third-shifters got off at dawn, they still wanted to enjoy a bit of "nightlife" after work, causing many Detroit bars to maintain an atmosphere of permanent midnight inside. Owning a bar in that era was an all-day proposition.
"I have a lot of nostalgia for that, the days when tool and die workers would line up in the morning, cashing their checks at the bar. It was rich in character. But those days went away with the death of the tool and die shops. Back then guys would come in for what was called a 'liquid lunch,' but sometimes they'd never leave and end up getting stewed. But with drunk driving laws getting stricter and such, that's out of the question. And with the smoke-free thing and families coming in, times change.
"So we made the leap. And, yeah, we have some disappointed customers who say, 'Aw, this used to be a shithole. Now it's a Buffalo Wild Wings!'"
Lang chuckles and says, "And I'm like, 'Buffalo Wild Wings makes $4 million a year!'" —Michael Jackman