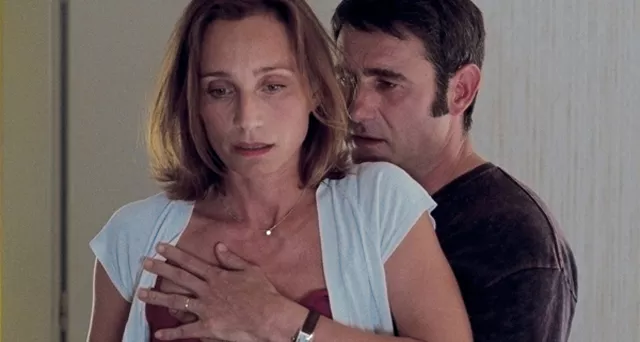 Between the terrific performances and artful cinematography, this is one high-class piece of melodramatic crap. It's one thing to indulge in every possible cliché of French film drama — a pampered yet adulterous wife, a wealthy but icy husband, a lower-class yet sensitive hunk, obsessive love, jealousy, murder — it's another to do it with such poker-faced solemnity.
Suzanne (the always-mesmerizing Kristin Scott Thomas) is a bourgeois housewife, married to a casually condescending physician, and mom to a pair of moody teenage kids. She lives in high fashion, driving a sporty Peugeot, hanging expensive art on her thoroughly modern walls and carefully decorating the garage that will become her new physiotherapy studio. But — wouldn't you know it — there's a flirty Catalonian ex-con (Sergi López) on the contractor's payroll. How can this ennui-filled middle-aged flower resist his rough-hewn charms? How can she ignore the bottomless passion that has been suddenly awakened in her?
Writer-director Catherine Corsini wallows in the tragic pain and despair of a woman all too willing to sacrifice comfort and family for a second chance at love. And like a horny schoolgirl who has just lost her virginity, her protagonist celebrates rediscovered freedom and sensuality with behavior that grows increasingly selfish and irrational. Which might be interesting if Leaving came anywhere close to creating a true character study of Suzanne. It doesn't. Instead, Corsini indulges in a shallow, ham-fisted update of Lady Chatterley's Lover with a little Madame Bovary thrown in for good measure. Rather than providing subtext or style she makes self-seriousness her sole virtue. There's no noir stylization a la James Cain nor the ironic nastiness you find Claude Chabrol's work (artists who reveled in their explorations of infidelity and betrayal) — just a lugubrious slog into a desperate housewife's self-destruction.
Which makes López and Thomas' participation baffling. Both actors are remarkable in their roles, giving heart and soul to a film that otherwise has neither. And while there are some interesting nuances to Corsini's domestic drama — particularly the humiliating economic hurdles that are thrown in the lovers' way — the script should have clued the two stars in to the inevitable Harlequin Romance product they were helping to create. Trust me, you've seen this story done much better.
Showing at the Landmark Maple Art Theatre, 4135 W. Maple Rd., Bloomfield Hills; 248-263-2111.