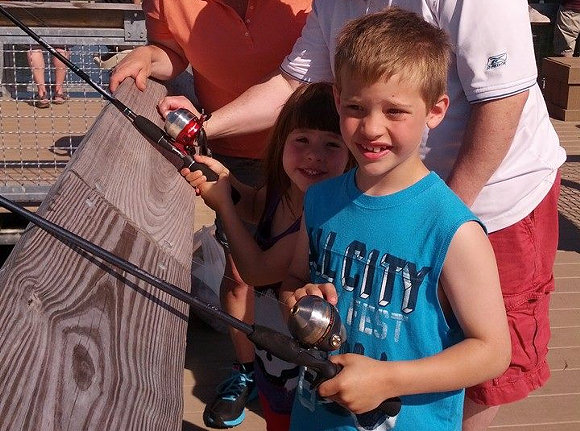 With this year's regular deer season underway, it seems a good occasion to mention that hunting and angling are in decline in our state. The declines may not be precipitous, but the trends are well-established. According to
a recent piece in Bridge magazine
, "From 2009 to 2015, the number of resident hunters in in Michigan dropped 10 percent, from 769,875 to 695,747. From the mid-1980s to 2015, the number of fishing licenses fell by a third, from 1.64 million in 1985 to 1.1 million in 2015."
That's cause for some anxiety, and not just for the Bass Pro Shops set, although they are right to fret that Midwestern culture, such as it is, loses something of its self-reliance and appreciation of the outdoors when sports like hunting and fishing fall by the wayside. Fishing and hunting represent a significant chunk of the money spent in Michigan's rural areas, where tourism is a cash cow.
Fortunately, some groups are stepping in to help young people connect with these outdoor traditions. For instance, just yesterday we got a call from a guy named Mark Stephens, and he's part of a project at Michigan State University called "Project FISH." The goal of the program is to teach people how to teach people to fish.
No, you didn't read that wrong. It teaches people how to become fishing teachers.
It's like that old saying: "Give a man a fish and you feed him for a day; teach a man to fish and you feed him for a lifetime." Well, Project FISH aims to go one further: "Teach a man to teach men how to fish, and you feed a new generation."
Chances are you know the type of person who might go out for this: Retirees trying to stay active, educators wanting to try something new, anglers wanting to pass on knowledge. The program hopes to enroll as many aspiring angling teachers as it can for the four-day class, spread out over two weeks in November and December at the Farmington Hills Nature Center.
It sounds like even a die-hard fishing fan can learn a thing or two from this program. It will feature lessons on Michigan aquatic ecology, people and fish, tackle crafting, and building angling skills. The $60 tuition gets graduates a rod-reel combo, a backyard bass game, tackle, curriculum materials, and access to supplies and resources to begin a successful fishing program with children.
Interested? Know somebody who might be interested? Here are the details. Register by Nov. 22:
The Project FISH Workshop runs 5:30-9 p.m. on four nights — Nov. 29 and Dec. 1, 6, and 8, at the Farmington Hills Nature Center, 24915 Farmington Rd., Farmington Hills; $60; for information, reach Mark Stephens at [email protected] or 517-432-2700; or download registration materials at www.projectfish.org/fishfarmingtonhills.pdf. Registration closes Nov. 22.