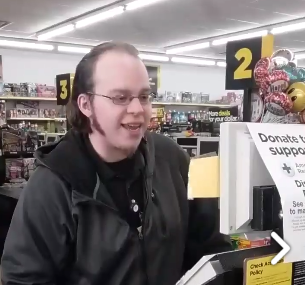 Lucas Holiday is a cashier at a Lansing Dollar General, but that role doesn't define him completely. He's also a singer who loves to serenade his customers — to the occasional chagrin of his manager — with R&B tunes like Maxwell's "Ascension."
On Nov. 8, Nakia Robinson posted this video of Holiday and since then it's gotten almost 8,000 reactions, over 13,000 shares, and nearly half a million views.
People are so enamored with Holiday, he's even close to clinching a wedding gig with his band,
Tell Yo Mama
.
We know all this because he had his own spot on
Good Morning America
this morning, and the cashier/singer got a little surprise in addition to his 15 minutes of fame.
During the spot, GMA pulled Maxwell into the call and the R&B singer invited Holiday to join him on stage when he's in town performing with Mary J. Blige at the Palace of Auburn Hills on Nov. 18.