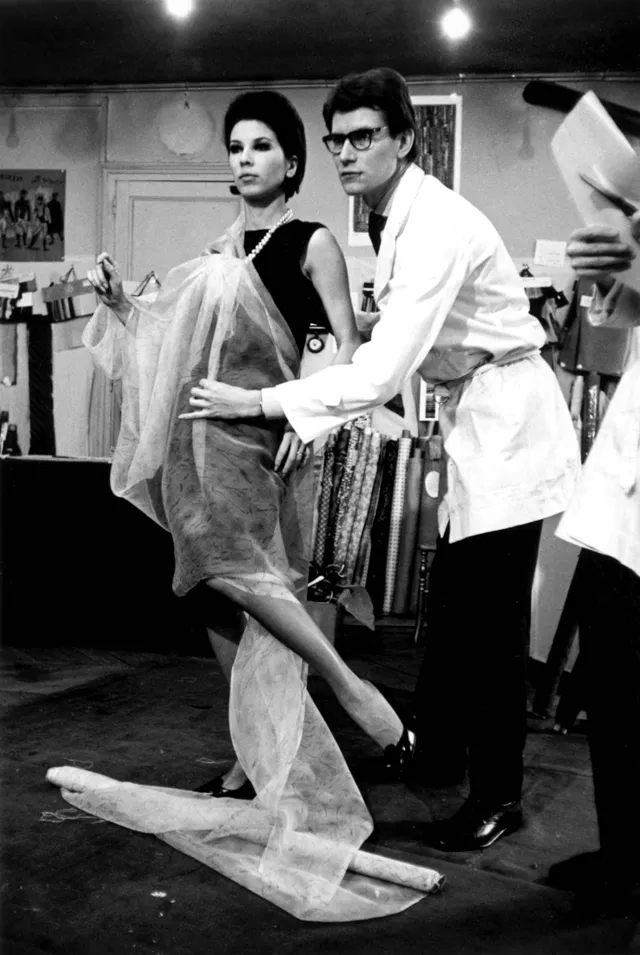 Fashion, as a dinner party topic, is generally a huge personal turn-off, yet on screen the results are often a good deal more interesting. As with recent critical success The September Issue, L'Amour Fou steps beyond the frippery and foolishness of haute couture, and into the very private life of an industry titan. More specifically it focuses on the complicated relationship between Yves Saint Laurent and Pierre Berge, a romantic and professional partnership that spanned five decades, beginning with the youthful designer's ascent to the throne of the House of Dior in 1958. Together the two men would branch out and found their own massively successful firm, a venture that would take at least one of them to the very pinnacle of French cultural life, and to huge global fame. Along with that came fame's predictable trappings: the disposable wealth, the sex, the depression and as a cover, the glittery drunk, coked-out excess that felled so many creative souls. Famous faces such as Jagger and Warhol pass through, but this is by no means a star-studded tell-all; instead, it's an often painfully personal eulogy.
Berge, who handled all of Saint Laurent's business affairs in life, must now preside over the sale of their treasured collection of artwork, including a few Mondrians that Yves had famously used as inspiration in the '60s. The camera glides over the palm-lined gardens of the couple's Marrakesh palace like a royal coronation. Inside, both the house and their Paris apartment, the walls are overstuffed with priceless objets d'art that'd give Charles Foster Kane pause. Like poor old Charlie's Xanadu, we see Saint Laurent's massive collection being slowly dismantled and auctioned off to the highest bidder. Yet there's no Rosebud to be found here; nothing to easily decode the art and mysteries of a sad, brilliant, man. L'Amour Fou is somehow intimate without being terribly revealing. It suffers from an overdose of elegance, and a desire to preserve a bit of the great man's dignity, which is fitting for such a stylish presence, but, like his work, it's only a beautiful drapery.
Opens Friday, May 27, at the Landmark Maple Art Theatre, 4135 W. Maple Rd., Bloomfield Hills; 248-263-2111.