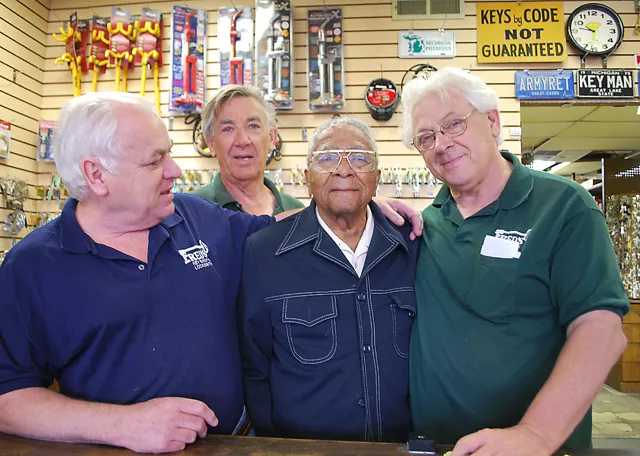 For a Monday morning birthday party, it was pretty wild.
Drinks were served. An organist played gospel music. The crowd danced on a concrete floor. And the guest of honor was surrounded by his friends in this unexpected party setting — the garage of an old Cass Corridor locksmith shop.
"It was insane," remembers Jim Murphy, who works here.
It all took place at Fred's Key Shop on Second Avenue at Martin Luther King Boulevard. The birthday bash was thrown for "Fast Eddie" Wyatt, who'd just turned 98. He doesn't work here, he's never worked here, but this is his hangout and these are his friends, and 98 years is definitely worth a celebration, the shop's workers figured.
"I was the first customer when they opened in the '60s. First one in the door," Wyatt says proudly. "Ain't nobody can make no key like they do."
So arrangements were made, music was scheduled, invitations were sent. One employee drew up a birthday banner featuring Wyatt's catchphrase — "Ain't that nice?" Another made a flyer featuring a picture of the always sharply dressed Wyatt. Some cooked food, others brought drinks.
"He's a pretty cool old guy," Murphy explains. "They make a big deal out of it when he comes in; you know, we'll scream out his name — 'Fast Eddie!' Go around the lobby, give him a big hug."
For years, Wyatt's come by to spend a couple hours with the guys now and then. It's an unusual choice for a hangout, but he became drawn here because a little family business like this tends to be tight-knit and friendly, because a key shop is livelier than you'd think, but mostly because just about everyone wants a place to go where they are made to feel like they belong. For him, this little locksmith shop is that place.
"As long as I've been here he's been coming and hanging out," Murphy says. "He's like one of the family."
Fred's has been around so long that they literally have the keys to the city.
They've got a cabinet that holds the master keys to most of Detroit's skyscrapers. They've been called on to help star athletes locked out of their cars at Joe Louis Arena and Comerica Park. They're the ones who were brought in to change the locks on the Manoogian Mansion when Kwame Kilpatrick was unceremoniously escorted out. The shop has been so central to city business that years ago Mayor Coleman Young gave Fred the symbolic key to the city to celebrate one of its anniversaries.
Fred Knoche started the business in 1962 in a small place on Forest near Third Street. He's employed all six of his brothers at one point or another, four to this day.
Wayne State University bought the original building in the early '70s to make room for parking, and the shop moved several blocks south to its current site, then an abandoned gas station at Second Avenue and Martin Luther King, in Detroit's version of a red-light district. It made for some interesting times — passing prostitutes, panhandling vagrants, and random nuisances, like the drunk who came in one time, sat down and wet himself, and had to be carried out, chair and all.
As the neighborhood locksmith, Fred was called on to handle the doors of the dozens of bars in the area, a number of which were little more than brothels. "Anderson's Gardens was notorious," says Fred, 73. "I remember going there at about 9:30 in the morning to do a lock job. I go over there, there were a couple of bartenders, four barmaids, the place was just packed with people. Nine-thirty in the morning. You knew what it was."
That was then. "It's like a ghost town here now," Murphy says. "Everybody's renovating buildings, doing lofts, and you got people coming in who are willing to spend a little money, but the people who are on the street get pushed farther away, and that all comes with people complaining and Wayne State expanding their area and cracking down on stuff that's going on in the street."
Danny Knoche, standing out front of the key shop, looks over what's left of the area, naming what this vacant lot used to hold, or what that pile of cinders used to be. He started working here when he was 9, helping out his older brother. Now he manages it. Like the others here, he has countless stories about the wild days in this rough neighborhood where the shop found a home.
"But when that AIDS hit, that was the end of the prostitutes," the 61-year-old says. "All you got now is hard-luck ones. They're trashy now. I wouldn't get within 10 feet of 'em, man."
Murphy stands behind the shop's front counter, waiting for the next phone call that'll take him on the road again.
"You get to see a lot of crazy stuff doing this job," the 40-year-old says. "You never know what it's going to be."
He's one of the shop's mobile locksmiths, on call 24 hours a day, sent to open locked houses, change the broken tumbler on others, free kids trapped in cars on hot days. He's had to open homes where someone lay dead inside. He's opened houses presumed to be empty, only to have squatters and dogs come rushing out. He has 17 years worth of stories from this job; some funny, some touching. And some too sad to warrant a fee.
"We get these calls from senior citizens that are going senile — 'You gotta come change my locks, 'cause all the food's moved around in my cupboards.' We had this one lady, we were going there to change her locks three and four times a year — 'Somebody's been in my underwear drawer.' You go out there and you change the locks and you don't really charge them nothing."
Other elderly people grow too weak to turn the key in their lock and think it's broken. Murphy says the locksmiths will take it apart, grease it and loosen it, and leave without charging them. "I'm not going to charge some 90-year-old lady because she can't turn the key."
They've gotten Tigers fans into their locked cars, only to find out they're broke. They let them go on their word. One showed up at the shop a few days later and not only paid his bill but also brought a case of beer as a thank-you.
"It always comes back, you know, good karma," he says of the occasional free work. "You get it back if you give it."
Wyatt sits by the front counter early on another weekday morning, watching the line of customers bringing in busted locks, worn keys, cars needing alarms. He can sit wherever he wants, in front or in the back. He's royalty here.
He still raves about the party they threw him days before. "We had weenies, they had a nice cake, they had some beans, salad — ain't that nice? Oh, it was real nice."
Wyatt came to Detroit from Memphis when he was 22, and became the personal chauffer for the Stroh beer family for 30 years. "All the big shots," he says. "Drove them all around everywhere." Later he became the maître d' at the renowned London Chop House, handing coats and ties to those who dared to arrive underdressed.
"Tell you what," Danny shouts, grabbing Wyatt's shoulders. "You see a finer fellow, you bring him to me. Ninety-eight years old, still going strong, baby! He's a living legend here in Detroit. This dude drives around in a Focus and talks on his cell phone while he's driving."
As the legend sits in the owner's office, a busy Fred comes and goes, back and forth. "Fred, I ain't in your way, is I?" Wyatt asks him, softly. "No no, buddy, you're never in my way," Fred replies. And Wyatt's face becomes a sunburst.
The owner's kind deference to this man who adopted this place and was in turn taken in by them shows he's officially become part of the fabric here, enough to merit a birthday party just for being around here so long. He's become one of the guys.
"See that?" Wyatt says, looking fondly at Fred and the others crowded in the back. "You can't beat 'em. I love all of them."
Detroitblogger John is John Carlisle. Send comments to [email protected].