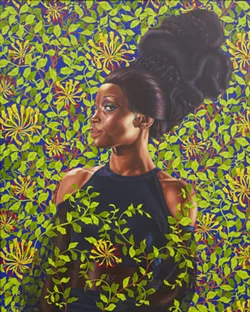 Detroiters may likely already be familiar with fine artist Kehinde Wiley's work. His painting "Officer of the Hussars" hangs prominently in the hallway of the Contemporary Art section at the Detroit Institute of Arts. It features a young black man wearing jeans and Timbs, heroically holding a sword on the back of a galloping horse, all set against a backdrop that resembles an ornate rug. Wiley, who has quickly become one of our generation's most important contemporary artists, is known for portraits like that, placing black protagonists within settings that mimic the classic European paintings of the Old Masters.
A New Republic, a traveling exhibition of Wiley's work, opened Friday at the Toledo Museum of Art. The traveling exhibition includes 60 paintings, sculptures, and stained glass paintings drawn from Wiley's past 15 years of work.
The show is curated by Eugenie Tsai, the John and Barbara Vogelstein Curator of Contemporary Art at the Brooklyn Museum in New York, where it originally opened. Tsai tells Metro Times that the images show the sitters as empowered individuals, and gives them agency in their depiction.
"The mashup of cultural and art historical traditions in his work, the fluidity of gender, the exuberance of the colors and patterns suggests the possibility of an open and inclusive future," she says.
Wiley's work takes classic European forms — oil paintings, stained glass, and sculpture from the Renaissance, Baroque, and Romantic periods — and replaces the European noblemen and barons with black individuals he meets and recruits from the street in a process he calls "street casting." He has described his work as an "intervention," where once the wealthiest European men were depicted sitting on their thrones, Wiley places contemporary black individuals dressed in their everyday wear.
After graduating from Yale with a Master of Arts in 2000, Wiley moved to New York, where he became the artist-in-residence at the Studio Museum in Harlem. In New York, he re-examined his academic instruction, which for him meant both questioning the values he learned in the academy and going back to the basics — portraiture. His classically trained skills remained central to his practice, but he moved to different processes and subject matter, unlearning the Eurocentric aesthetic he had been inundated with in the academy, and in doing so, developing a collaborative relationship with his surroundings.
Central to his paintings is the experience of his models. He mines his urban landscape — both in the U.S. and, lately, internationally — for charismatic models and invites them into his studio to scour art books and choose poses. In asking strangers to participate, Wiley allows for a black public to be seen in these erstwhile exclusionary art forms and makes the paintings a reflection of their desires in representation.
Wiley challenges Eurocentrism while exploring modern notions of wealth, power, and status, pointing to a harrowing lack of black bodies in historical and cultural narratives. In an interview with NPR he says he wanted to better understand "this dissonance between the world that you know [as a black individual], and then what you mean as a symbol in public, that strange, uncanny feeling of having to adjust for ... this double consciousness."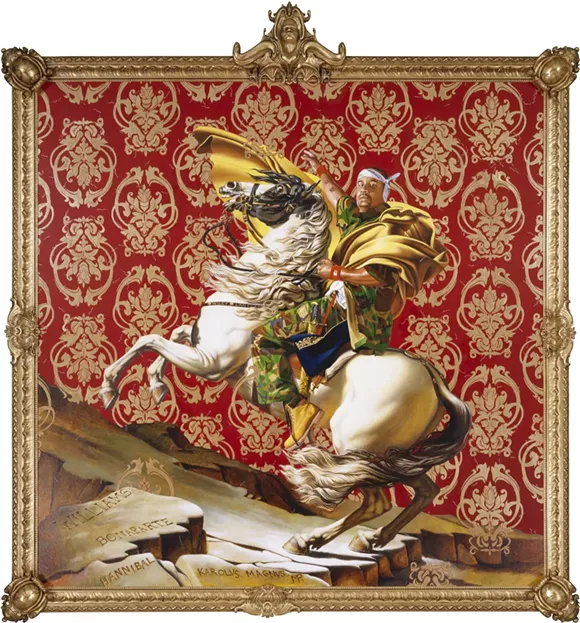 While the black identity is central to his critique of the art canon, he also challenges the spectacle of contemporary black masculinity. In fact, most of his earlier paintings exclusively feature men. He uses an urban visual vernacular to articulate masculinity in such a way as to present gender as fluid and moving, often feminizing men in his paintings with elaborate flower patterns and vivid colors.
The images unabashedly evoke glamour, excess, and wealth. High-contrast colors glimmering over lush, intricate patterns are the backgrounds for ornate gold furniture and individuals in languid poses. With many of the paintings measuring an overwhelming 9 feet tall, the scale also adds drama to the paintings. Always juxtaposing the regal with the quotidian, Wiley uses the visual vocabulary of a pre-1800 European aristocracy with signs and symbols of contemporary black America to create a new, visually compelling aesthetic language.
The exhibit moves from his earliest oil painting portraits of male figures, into his Old Master portraiture and then his later explorations of sculpture — bronze portrait busts and stained glass "painting" and iconography — yet always affirming his firm focus on the black and brown bodies he depicts.
This show marks somewhat of a halfway point in his career, beginning with Wiley's work at the Studio Museum, but perhaps comes at a decisive moment. Tsai believes "his work offers a bit of hope at this moment of political change."
Kehinde Wiley: A New Republic runs through May 14 at the Toledo Museum of Art; 2445 Monroe St, Toledo; 419-255-8000; toledomuseum.org; free admission.