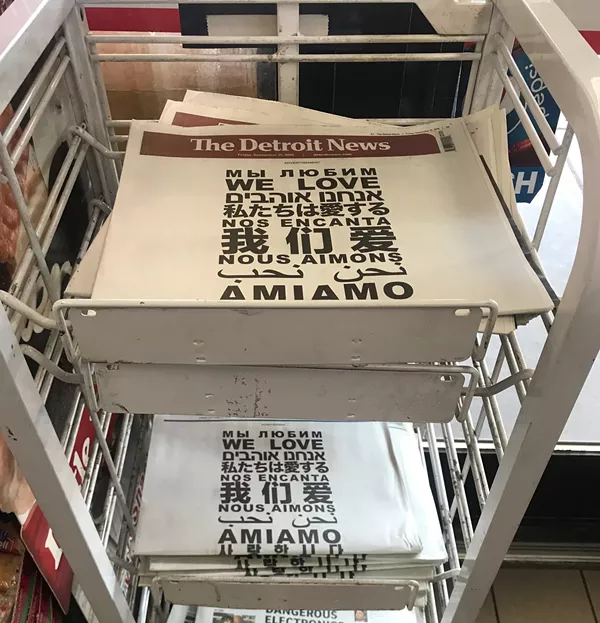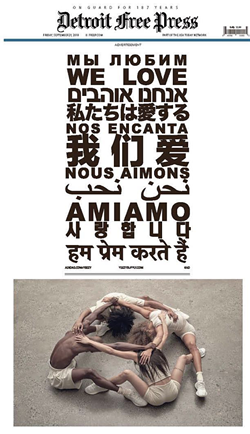 If you stopped at your local bodega, gas station, or coffee shop this morning expecting to get your daily dose of news via the appropriately named newspapers, you may have noticed the words "We Love" written in 11 different languages. A powerful political statement? A call for unity in an otherwise divided nation? Unfortunately, neither is true.

In the latest example of how Idiocracy has become a blueprint for American society, unstable shit-starter, artist, designer, and MAGA-loving Kayne West took up prime front page real estate to promote the release of his $220 Yeezy Boost 350 V2 in "Triple White" sneakers. What do sneakers have to do with "we love?" We're not entirely sure, but Detroit wasn't the only ad target. Among the newspapers across the country to go full Hypebeast: The New York Post, The Los Angeles Times, The Chicago Tribune, and both The Detroit News and Free Press.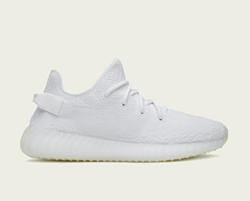 According to the
Free Press
, this is only the second time the paper has sold the front page to an advertiser (the first was in 2016 for a Chevrolet Silverado) suggesting the cost for such placement is estimated to be up to $100,000. This means West only has to sell around 455 pairs of Yeezy Boost's per city to comp his ad cost.
West's relationship with Detroit made national headlines earlier this year when Detroit hip-hop station 105.1 The Bounce pledged to remove his music from its morning show after West went on a
disturbing rant while in the offices of tabloid giant TMZ where he suggested that American slavery was a choice.
The Yeezy ad, which runs across four full pages, has the word "love" translated in several languages and repeated throughout along with several photos from Yeezy's campaign, which, may or may not be plagiarized work as recent allegations have surfaced suggesting striking similarities between
Yeezy's season 6 campaign to the 2015 series by artist Rita Minissi.
Both West's series shot by Eli Russell Linnetz and Minissi's commentary on disconnection from identity feature people contorting, embracing, some nude or in flesh-colored clothing, all shot in against a stark and concrete backdrop.
For anyone wondering WTF Kanye's motive is in both his career and his general existence the answer may be shrouded in this week's video drop for
"I Love It" featuring Lil Pump
where the rapper proclaims "I'm a sick fuck, I like a quick fuck (whoop!)"
Stay on top of Detroit news and views. Sign up for our weekly issue
newsletter
delivered each Wednesday.